Field hockey falls to undefeated Cortland
---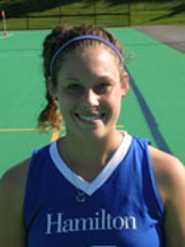 Hamilton women's field hockey competed against Suny Cortland ranked fifth in the division III coaches poll at Suny Cortland Stadium Complex on Sep. 14.
The Red Dragons (4-0 overall) gained the lead in the 11th minute with a goal scored by Danielle Hand. Late in the first half, Hamilton pressured Cortland and was awarded eight penalty corners. Mary Lancaster '12 added five shots to the Continentals (2-1) total of 12 for the game. The Continentals eventually capitalized 2:27 before the half as Erin McNally '12 deflected Collen Callaghan's '11 long blast inside the left post on a give-and-go. Leaving the game tied at the half 1-1.
Red Dragon's Brenda Semit scored on a penalty stroke at the 50th minute of the game to lead the Continentals, 2-1. The Continentals pressed for the tying goal and created a quality chance with 11:11 remaining, but the shot got deflected on a penalty corner to go wide. Molly Brooks '14 had five saves.