Field hockey hammers Hartwick
---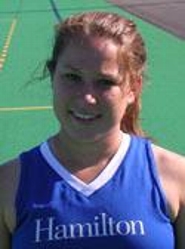 Colleen Callaghan '11 scored four goals and was credited with two assists to lead Hamilton College to an 8-0 rout of Hartwick College in a non-league game at Hamilton's Campus Road Athletic Field on Sept. 28.
Callaghan entered the night ranked first in NCAA Division III with 1.6 assists per game. She leads the Continentals with nine goals and 10 assists, and became the first player in team history to reach the 100-point milestone. She currently has 104.
Erin McNally '12 chipped in three goals and one assist, and Catie Torcivia '12 added four assists for Hamilton. Molly Brooks '14 needed to make just one save in the first half to post her third shutout.
The Continentals (5-1 overall) needed just 3 minutes, 39 seconds to grab a 1-0 lead. McNally notched the first goal on a penalty corner. Callaghan then tallied the next four goals. Marisa Spagnolo '12 assisted on Callaghan's first goal with 18:40 left in the half. Hamilton led 4-0 at the break.
Callaghan made the score 5-0 with 26:50 remaining. McNally followed with another goal on a penalty corner with 13:43 left. Nikki Haskins '14 scored her fourth goal of the year on an assist from Mary Lancaster '12 with 7:43 remaining, and McNally accounted for the final margin with 2:44 left. The eight goals are the most by Hamilton since the Continentals defeated SUNY Oswego 10-2 on Sept. 12, 2007.
The Continentals enjoyed a 33-6 shot advantage, and were awarded 16 penalty corners to five for Hartwick, which lost its third straight game. The Hawks (2-6) still lead the all-time series, 24-8.
Hamilton has won three in a row, and is 4-0 at home. The Continentals have outscored their opponents 23-3 in those four home games.
Hamilton travels to St. Lawrence University for a Liberty League game on Friday, Oct. 1. Hartwick goes on the road to face Stevens Tech on Saturday, Oct. 2.