Field hockey holds on for win at St. Lawrence
---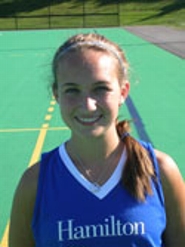 Hamilton College jumped out to a 3-0 lead in the first half and the Continentals held on for a 3-2 win against St. Lawrence University in a Liberty League game at St. Lawrence's North Country Field on Oct. 1.

Hamilton (6-1 overall, 3-0 Liberty) won its fourth straight game and is tied with Skidmore College for first place in the league standings. The Saints (4-4, 2-1) pulled within one goal with 9:37 left in the second half, but weren't credited with any shots after that.

Nikki Haskins '14 came off the bench to lead the Continentals' offense with one goal and one assist. Haskins has five goals and picked up her first collegiate assist. Molly Brooks '14 made seven saves.

Haskins gave Hamilton a 1-0 lead with 22:53 remaining in the first half. Colleen Callaghan '11 hammered a shot off a penalty corner that Haskins deflected over the goalie.

A little more than three minutes later, Katherine Bossler '12 sent a pass across the goal mouth, and Mary Lancaster '12 put a low shot inside the far post for her second goal of the year. The Continentals made it 3-0 just 2 minutes, 17 seconds later, when Erin McNally '12 tallied her eighth goal on a blast from just inside the arc that squeezed inside the near post.

St. Lawrence got on the scoreboard with 12:41 left before the break as Hamilton led 3-1 at the half. The Continentals held a slim 17-15 edge in shots for the entire game. The Saints were awarded 14 penalty corners to Hamilton's 12.

The Continentals are off until Friday, Oct. 8, when they travel to nationally ranked No. 16 William Smith College for another league game.