Field hockey in preseason coaches poll
---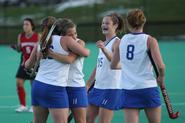 Hamilton College is ranked 17th in the 2011 National Field Hockey Coaches Association Division III preseason Top 20 poll.

This marks the first time Hamilton field hockey has been ranked in the preseason poll. The Continentals play six of their 14 games against other teams ranked in the 2011 poll. Hamilton hosts No. 20 SUNY Geneseo (Sept. 7), No. 14 Amherst College (Sept. 24), No. 10 Middlebury College (Oct. 8) and No. 6 Tufts University (Oct. 22), and travels to No. 19 Trinity College (Sept. 10) and No. 1 Bowdoin College (Oct. 15).

The Continentals finished 2010 with an overall record of 13-3. The 13 wins are a team record. Hamilton ended up second in the Liberty League regular season standings, and advanced to the league's championship game. The Continentals move to the New England Small College Athletic Conference this fall. Hamilton is one of six teams from the conference that are ranked in the preseason poll.

Erin McNally '12 leads the Continentals. The midfielder was an All-American as a sophomore in 2009, and is a three-time all-region selection. McNally is ranked fourth with 20 career assists and fifth with 56 points, and is tied for fifth with 18 goals on Hamilton's all-time list. She is one of nine starters returning in 2011.

The Continentals open the season at home against Geneseo on Wednesday, Sept. 7, at 6 p.m.