Field hockey opens season with win over Geneseo
---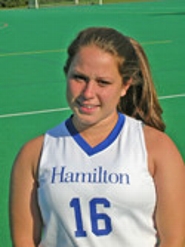 Colleen Callaghan '11 scored three goals and assisted on one other to lead Hamilton College to a 5-1 win against visiting SUNY Geneseo in a non-league game played at Campus Road Athletic Field on Sept. 5.
Erin McNally '12 and Catie Torcivia '12 added one goal and one assist apiece for the winners. Courtney DeMaria '10 needed to make just two saves as Hamilton (1-0 overall) thoroughly dominated play in its season opener. It is the first time since 2003 that Hamilton opened their season with a win. The Continentals enjoyed a 23-4 advantage in shots and took nine penalty corners to five for Geneseo (1-1).
McNally put Hamilton up 1-0 with 14:34 left in the first half and then helped Callaghan make the score 2-0 with about nine minutes remaining. McNally started a penalty corner and sent the ball rolling to Callaghan, who collected the pass, side-stepped a defender and fired a hard shot into the back of the cage.
Nearly 10 minutes into the second half, Callaghan took a long shot that eluded the goalie and found the left corner of the goal for a 3-0 lead. With the goal, Callaghan took fifth place on the team's all-time list with 17 career goals. She also moved into fifth place on the all-time points list with a total of 52 career points.
The Blue Knights cut the margin to 3-1 with 18:55 left. However, Torcivia clinched the victory with a goal on a nice lead pass from Callaghan with 9:41 remaining.
The Continentals host Utica College on Saturday, Sept. 12, at noon.