Field hockey overwhelms Oneonta
---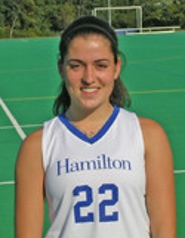 Mary Lancaster '12 scored two goals to lead Hamilton College's rally from a one-goal deficit and the Continentals went on to a 4-1 non-league victory against visiting SUNY Oneonta at Campus Road Athletic Field on Oct. 31.
Hamilton (8-6 overall) picked up its fourth straight home win. Oneonta (6-12), which still leads the all-time series, 21-11-1, dropped to 0-8 away from home this year.
The Red Dragons grabbed a 1-0 lead just 1 minute, 20 seconds into the first half. An Oneonta player slapped a shot from inside the arc and left of the goal that deflected off a defender's stick and past goalie Courtney DeMaria '10. DeMaria made two saves.
The Continentals controlled most of the action for the rest of the half and finished with a 16-3 shot advantage during the first 35 minutes. The pressure finally paid off with 8:53 left before the break.
Amy Allen '10 fired the ball towards the goal after a re-start and Colleen Callaghan '11 tipped it past the goalie from directly in front of the cage. Callaghan has six goals this year and four in the last two games.
Oneonta came out with more energy in the second half and received a number of penalty corners early. The Red Dragons ended up with an 8-3 advantage on penalty corners during the final 35 minutes. However, Hamilton completed its comeback with three more unanswered goals.
Lancaster scored during a scramble just a few feet from the goal to give the Continentals the lead for good at 2-1 with 22:46 remaining. She added her fifth goal 5:27 later when she pounced on a loose ball after a teammate's shot squirted free.
Sarah Flisnik '12 clinched the Hamilton victory with the second goal of her collegiate career. Flisnik one-timed a nice pass from Callaghan with 61 seconds left for the final margin. Callaghan leads the team with 10 assists and 22 points. She moved into third place on the program's career list with her 17th assist. The Continentals enjoyed a 28-11 advantage in shots.
The Continentals end the regular season with a winning record for the first time since 1995, which is also the last time they won as many as eight games in a season. Hamilton travels to St. Lawrence University for a Liberty League tournament semifinal game on Friday, Nov. 7. The Continentals are making their first appearance in the tournament's seven-year history.