Field hockey player featured in Utica newspaper
---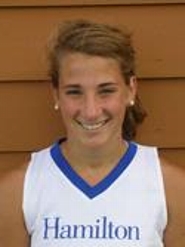 Hamilton College field hockey player Sarah Flisnik '12 was featured in the sports section of Utica's daily newspaper, the Observer-Dispatch, on Nov. 17.
Click here to read the interview, which was conducted by sports editor Fran Perritano. Flisnik is from Marcy, N.Y., and graduated from Whitesboro High School. She recorded one goal and three assists in 17 games at midfield, as Hamilton posted a 12-5 record and played in the NCAA tournament for the first time in team history.
Flisnik helped lead the team to a program record for wins in one season, its first share of the Liberty League regular season title and the team's first win in league tournament play. Hamilton also hosted a postseason event for the first time in 20 years on Nov. 4, when the Continentals played St. Lawrence University in a league tournament semifinal at home.