Field hockey player honored by Liberty League
---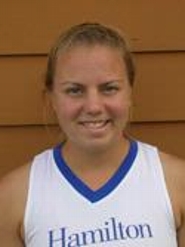 Hamilton College's Catie Torcivia '12 (Rumson, N.J./Rumson-Fair Haven Regional HS) was a Liberty League co-offensive performer of the week selection for field hockey on Nov. 2 when the league named its weekly award winners.
Torcivia came off the bench to score three goals in two non-league wins last week for Hamilton (11-3 overall). She tallied both goals in a 2-0 victory against Nazareth College on Oct. 29, and added one more in a 7-1 rout of Morrisville State College on Oct. 31.
The Continentals have set a team record for wins in one season with 11. Hamilton hosts nationally ranked No. 16 St. Lawrence University in a league tournament semifinal game at Campus Road Athletic Field on Wednesday, Nov. 4, at 5 p.m.
The field hockey team is playing a postseason event at home for the first time since 1989. The Continentals are the No. 2 seed in the four-team tournament while St. Lawrence is the third seed. The teams were part of a three-way tie for first place in the league standings with 6-1 records. Hamilton earned a share of the league's regular season title for the first time in program history.