Field hockey goalie honored by Liberty League
---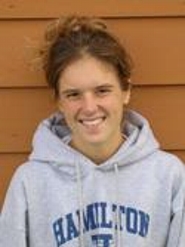 Hamilton College's Courtney DeMaria '10 (Littleton, Mass./Groton School) was selected the Liberty League defensive performer of the week for field hockey on Nov. 9.
DeMaria stopped 16 of the 19 shots she faced for a save percentage of .842 in two league tournament games last week. She made six saves to post her 10th career shutout as Hamilton defeated St. Lawrence University 1-0 in the semifinals for the Continentals' first tournament win.
DeMaria has received two performer of the week awards this year. She leads the league with five shutouts and ranks second with a 1.54 goals against average. She is also fourth with 5.56 saves per game.
Hamilton will make its first appearance in the NCAA Division III tournament in team history with a first round game against the College of Wooster in Wooster, Ohio, on Wednesday, Nov. 11. The Continentals -- an at-large selection to the 24-team tournament -- are 12-4 this season and have set a program record with those 12 wins.