Field hockey players honored by Liberty League
---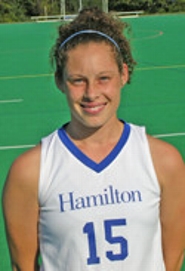 Three Hamilton College field hockey players were honored by the Liberty League on Nov. 6 when the league selected its 2008 end-of-season award winners.
Erin McNally '12 (Scotia, N.Y./Burnt Hills-Ballston Lake HS) was voted Rookie of the Year by the league's coaches and the midfielder also made First Team all-league. Forward Colleen Callaghan '11 (Queensbury, N.Y./Glens Falls HS) joined McNally on the first team. Back Amy Allen '10 (Bright's Grove, Ontario/Loomis Chaffee School [Conn.]) was Honorable Mention.
McNally started and played every minute of all 14 games at center midfield. She scored two goals and was second on the team with eight assists. She ranks third in the league in assists per game. She was named the league's Rookie of the Week on Oct. 6 and Oct. 13.
Callaghan was all-league honorable mention in 2007 as a rookie. She started all 14 games, scored six goals, and led the team with 10 assists and 22 points. She ranks second in the league in assists per game and third in points per game. She was a league co-Offensive Performer of the Week on Sept. 15 and Oct. 27.
Allen was third on the team with 13 points in 13 games played. Four of her six goals were game-winners. She also made two defensive saves.
Hamilton (8-6 overall) tied for third in the final league standings and made the four-team league championship tournament for the first time in the event's seven-year history. The Continentals are making their first postseason appearance since 1995.