Field hockey posts road win
---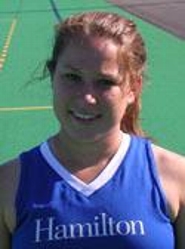 Colleen Callaghan '11 scored two goals and assisted on another, and Molly Brooks '14 made eight saves to post her first shutout as Hamilton College shut out Utica College 3-0 in a non-league game at Utica's Charles A. Gaetano Stadium on Sept. 11.
Callaghan leads the team with four assists and eight points. Brooks improved her goals against average to 1.00 and her save percentage to .857.
2009 All-American Erin McNally '12 chipped in a goal and an assist, and Caitlin Livsey '12 was credited with an assist for undefeated Hamilton (2-0 overall). The Continentals travel to nationally ranked SUNY Cortland for another non-league game on Sept. 14 at 4 p.m.
Callaghan scored the first goal with 21:48 left in the first half when she redirected Livsey's shot into the left side of the cage. A little more than three minutes later, McNally scored after Hamilton was awarded a penalty corner. The Continentals held a 2-0 lead at the break. Callaghan clinched the win with her second goal with 26:25 left in the second half.
Utica (2-2) held a slim 8-7 advantage in shots, but the Pioneers enjoyed a 12-3 cushion in penalty corners. Brooks preserved her shutout by making a save as time expired after a Utica corner.