Field Hockey pulls away late for league win
---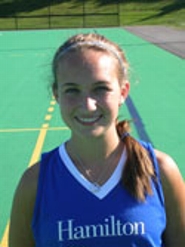 Colleen Callaghan '11 scored two goals in the second half to help Hamilton College pull away to a 4-1 win against Rensselaer in a Liberty League field hockey game at Hamilton's Campus Road Athletic Field on Sept. 25.
Callaghan, who became the program's career leader in points on Friday, has four goals and two assists in the last two games. She leads the Continentals with five goals and eight assists. Hamilton (4-1 overall, 2-0 Liberty) has won all three of its home games and has outscored the opposition 15-3 in those contests.
Rensselaer (2-6, 0-2) grabbed a 1-0 lead 6 minutes, 34 seconds into the first half when Sandy Turnbull '11 scored her fourth goal this year. Hamilton defender Meghan Carter '12 was injured on the play and did not return.
The Continentals responded with 20:17 left in the half. Briana Earle '12 stopped a shot, but the ball squirted free to Mary Lancaster '12, who poked it into the cage for her first goal this year. Nikki Haskins '14 gave Hamilton the lead for good with 16:00 left before the break. Haskins carried the ball into the right side of the arc and ripped a shot just after she crossed the line that beat Earle to the left side of the cage. The Continentals led 2-1 at the half.
Callaghan got warmed up in the second half. She converted a penalty shot with 12:41 left and clinched the victory on an unassisted goal with 5:18 remaining. She was credited with 11 shots.
Molly Brooks '14 made five saves for Hamilton, and Earle turned aside seven shots for the Engineers. The Continentals held a 22-16 advantage in shots, and Rensselaer held a 7-5 edge in penalty corners. The Engineers lost their fifth straight game. Hamilton leads the all-time series 13-10 and has won three in a row against Rensselaer.
The Continentals host Hartwick College for a non-league game on Sept. 28. The Engineers play league rival Vassar College on the road on Sept. 29.