Field hockey rallies to nip Williams in OT
---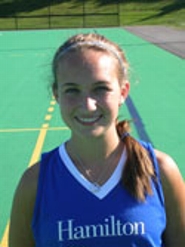 Nikki Haskins '14 scored with 10:05 left in the first sudden-victory overtime period to lift nationally ranked No. 15 Hamilton College to a 3-2 win against Williams College in a non-league field hockey game at Hamilton's Campus Road Athletic Field on Oct. 13.

Haskins found the loose ball amidst a crowd in front of the goal, and poked the game-winner into the cage from a few feet away. The goal was her eighth this year and it completed the Continentals' rally from a 2-0 deficit for the second time in the last three games.

Hamilton improved to 9-1 for the first time in program history with its seventh win in a row. Williams (2-7 overall), which had been shut out the previous three games, dropped its fifth straight.

The Ephs grabbed a 2-0 lead with two goals by Margie Fulton '12 just two minutes apart in the first half. The first one came with 23:58 left before the break. Betsy Hart '14 was credited with the assist on both goals. Williams held on to that two-goal advantage at the half.

The Continentals turned up the pressure after halftime. Hamilton owned a 14-5 shot advantage, and was awarded 12 penalty corners to just two for the Ephs after the break. Caitlin Livsey '12 cut the Continentals' deficit in half just 3 minutes, 5 seconds into the second half when she scored her third goal on a rebound from the right side of the cage.

Colleen Callaghan '11 tied the score on her 12th goal with 10:54 remaining. Callaghan received a nice pass ahead from Erin McNally '12 up the middle of the field, dribbled into the arc and her shot eluded the charging goalie. Callaghan tied the program record with 35 points this season.

Molly Brooks '14 made four saves for Hamilton, and Katrina Tulla '11 stopped eight shots for Williams. The Continentals finished the game with a 21-12 shot advantage, and were awarded 18 corners to just three for the Ephs.

Hamilton travels to Nazareth College for another non-league game on Tuesday, Oct. 19. Williams hosts Bowdoin College for a New England Small College Athletic Conference contest on Saturday, Oct. 16.