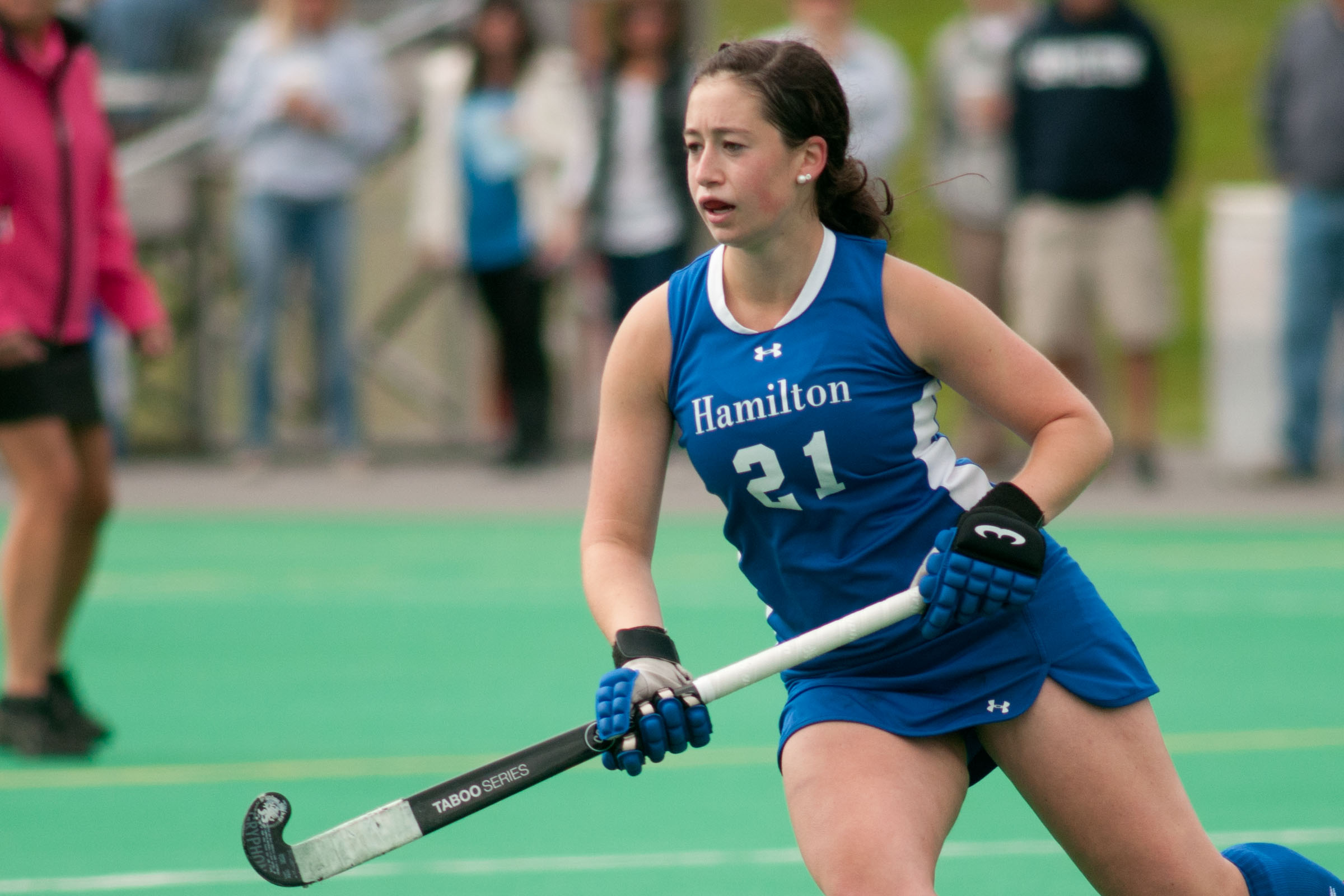 The Hamilton College field hockey team (2-1, 1-1 NESCAC) rallied for its first conference win of the season, beating NESCAC rival Bates 2-1 Saturday afternoon in Lewiston, Maine. Eva Rosencrans '17 scored the game-winning goal 1:43 into overtime.

Box score

The Continentals, who beat Bates (0-2, 0-2 NESCAC) for the second season in a row, tied the score in the 50th minute then withstood a late Bobcat flurry. Bates outshot Hamilton 30-12 on the day and held a 3-0 advantage in shots on goal over the final 20 minutes of regulation, but Victoria Trentini '15 was credited with saves on all three shots. The Bobcats also missed a penalty stroke in the 65th minute.

Rosencrans' game winner was the first overtime goal of her career. It came off a rebound of a shot by Emma Anderson '17 that was initially saved by Bates goaltender Katie Knox '16. The goal was Rosencrans' third of the season and the 11th of her career. She has the game-winning goal in both Continental victories this fall.

Sam Sherman '15 converted one of Hamilton's four second-half penalty corners to tie the score. She netted her first goal of the season off assists by Aubrey Coon '16 and Anderson, knotting the game 14:30 into the second period. Coon and Anderson both picked up their first assist of the year.

Bates took a 1-0 lead late in the first half on a goal by Shannon Beaton '16. Beaton took a through ball from Sydney Cowles '17 following a steal by Jillian Conway '15.

Following Sherman's tying goal, the host Bobcats outshot Hamilton 11-2 over the rest of regulation with Trentini making three of her season-high seven saves in that span. Their best chance at a go-ahead goal came in the 65th minute when Claire Markonic '17 was awarded a penalty stroke but hit the left post.

Knox, who entered the game following halftime, made two saves. Cristina Vega '16 started in goal and stopped one shot.

The Continentals host SUNY Oswego on Tuesday in a 5 p.m. non-league contest. Bates plays at top-ranked Bowdoin on Wednesday night.