Field hockey rallies for overtime win at William Smith
---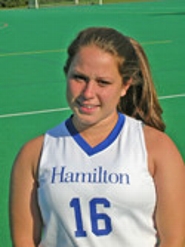 Colleen Callaghan '11 scored three goals, including the game-winner 2 minutes, 35 seconds into overtime, to lift visiting Hamilton College to a 3-2 Liberty League win against William Smith College at McCooey Field on Oct. 26.
With the win, Hamilton (7-6 overall, 4-3 Liberty) qualified for its first league tournament in the seven-year history of the event. The Continentals are the fourth seed in the four-team tournament and will play top seed St. Lawrence University at St. Lawrence on Friday, Nov. 7. Hamilton defeated the Saints 3-1 in Canton, N.Y., on Oct. 4. The Continentals will make their first postseason appearance since 1995.
Callaghan has five goals this year and leads the team with 19 points. In the overtime, she broke free on a breakaway and launched her shot from the top of the circle as the goalie came out to meet her. The ball crossed the goal line just inside the left post, and touched off a wild celebration by the visitors.
Hamilton trailed 2-1 for much of the second half until Callaghan scored with 3:42 left in regulation. The goal, which looked more like a cross than a shot, was headed wide of the cage but the ball deflected off a defender's stick and into the back of the goal.
Callaghan gave the Continentals a 1-0 lead with 26:31 left in the first half when she ended a breakaway chance with a shot that squeezed between the goalie's pads. She has 12 goals and 16 assists for her career.
William Smith (8-8, 2-5) tied the score with 7:25 remaining before the break, and took a 2-1 lead just 2:55 into the second half. Hamilton's Cassie Sullivan '09 made a key defensive save moments later to prevent the Herons from taking a 3-1 lead.
Courtney DeMaria '10 stopped eight shots for Hamilton, which defeated William Smith for the first time since 1991, and for the third time in 33 meetings. Both teams took 14 shots while the Continentals had the only two in overtime. The Herons, who have lost seven in a row, were awarded 10 penalty corners to five for Hamilton.
The Continentals host SUNY Oneonta for their regular season finale on Friday, Oct. 31, at 5 p.m.