Field hockey rallies to knock off Geneseo in OT
---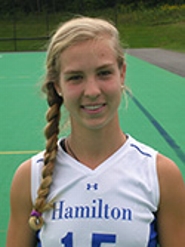 Hamilton College's Casey Brown '16 scored 2:58 into the first sudden-victory overtime period and lifted the Continentals to a 4-3 come-from-behind victory against SUNY Geneseo in a non-conference game at Hamilton's Campus Road Athletic Field on Oct. 8.

Box score

The Continentals (3-5 overall) scored twice and erased a 3-1 deficit in the final seven minutes of regulation. Brown's overtime goal was her second of the game and her fourth goal this year. She has a pair of multi-goal games in 2013.

Brown took a pass from Eva Rosencrans '17, who was positioned at the far post, and pushed the ball into the cage for Hamilton's first overtime win since a 2-1 victory over William Smith College in the 2010 Liberty League Championship semifinals.

Rosencrans and Brown scored 3:33 apart late in the second half and kick-started the rally. Brown took a lead pass from Nikki Haskins '14, maneuvered around goalkeeper Dayna Mercer '16 (3 saves) and pulled Hamilton to within 3-2 with 6:51 left.

Rosencrans tied the score with her team-high seventh goal this season with 3:18 remaining. She carried the ball into the circle after a restart, faked left and shot right past the prone goalkeeper.

Sarah Malinak '16 led the Knights (6-5) with two goals. Malinak gave Geneseo a 1-0 lead 7:12 into the first half off an assist from Kayla DeAngelis '14.

Elena Hingston '16 broke a 1-1 halftime tie with her third goal this year. Hingston took a pass from Bridget McGovern '14 after a penalty corner and blasted a shot into the back of the cage with 22:21 left. Malinak put Geneseo up 3-1 with her 11th goal with 14:24 remaining when she tipped in a long shot taken by Katie Farley '14.

Haskins scored Hamilton's first goal and the 25th of her career, which ties her for third place on the program's all-time list with Jess Goldberg '08. Haskins tipped in a shot by Emma Anderson '17 with 21:22 left in the first half. Rosencrans started a penalty corner that was stopped by Sam Sherman'15, who fed Anderson for her team-leading third assist this season.

Hannah Keohane '17 stopped four shots, including one in overtime, and improved her record to 2-2 for Hamilton. Sherman was credited with a defensive save.

The Continentals return to NESCAC play this weekend when they travel to nationally ranked No. 3 Bowdoin College on Saturday, Oct. 12.