Field hockey runs win streak to eight
---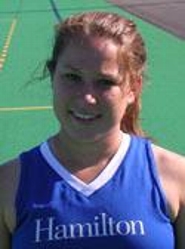 Colleen Callaghan '11 scored two goals, including the game-winner with 3:18 left in the second half, to lift nationally ranked No. 14 Hamilton College to a 2-1 win against Nazareth College in a non-league game at Nazareth's Flyer Field on Oct. 19.

Callaghan owns the program record with 39 points this year. She entered the night tied with Missy Stengel '87 for the team mark. Callaghan leads Hamilton with 14 goals and has a team-record 40 for her career.

The Continentals (10-1 overall) won their eighth straight game. Hamilton dominated the action with a 23-1 shot advantage, and a 15-1 cushion in penalty corners.

Callaghan gave the Continentals a 1-0 lead with 2:02 left in the first half. Catie Torcivia '12 was credited with her eighth assist.

Nazareth (4-8) evened the score just 1 minute, 25 seconds after the break on a goal by Nina Fargnoli. The Golden Flyers clung to the tie until Callaghan's late goal. Sarah Flisnik '12 picked up her first assist and first point this year. Kelsey Evans made 14 saves for Nazareth, and Molly Brooks '14 didn't have any for Hamilton.

The Continentals host Union College for a Liberty League game on Saturday, Oct. 23.