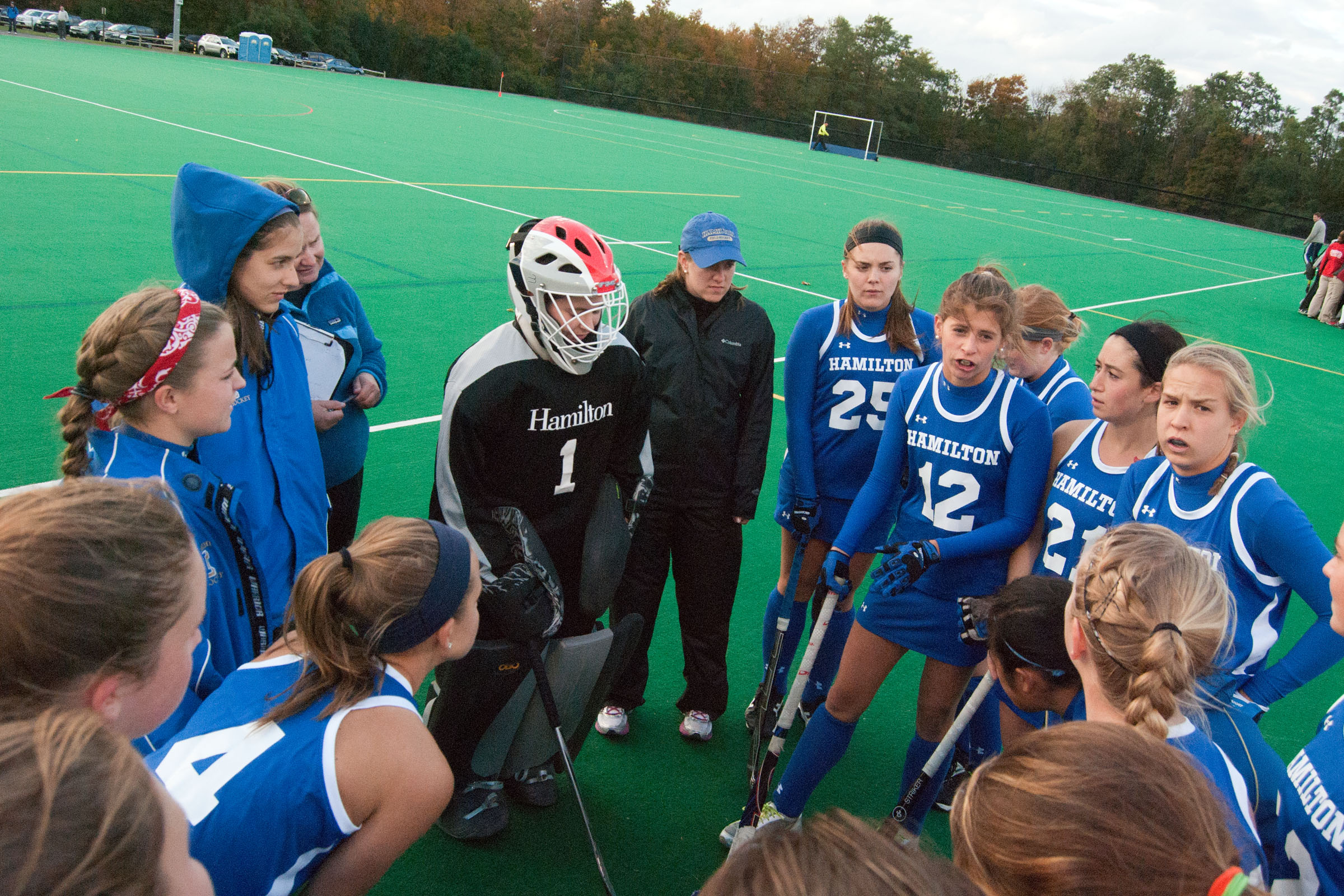 The Hamilton College field hockey team closed out the season with a 6-0 loss to nationally ranked No. 2 Bowdoin College in the quarterfinals of the 2014 NESCAC Championship on Saturday afternoon in Brunswick, Maine.

Box score
The Continentals finished with a 6-10 record. Five of Hamilton's last eight opponents were top-10 teams.

The Polar Bears, the defending NCAA champions, will host next weekend's semifinals and final. Bowdoin faces fifth-seeded Tufts University on Saturday, Nov. 8, in one semifinal.

Victoria Trentini '15 made five saves in her final collegiate game. Her 129 saves this season lead the NESCAC. Trentini's five saves raised her career total to 524, extending her school record.

Bowdoin (15-1) scored three times in the first 12 minutes to take control, including a goal less than a minute into the game. Adrienne O'Donnell '15 led Bowdoin with three points; she and Rachel Kennedy '16 scored two goals apiece.

Kennedy notched the opening goal, collecting the ball on Hamilton's stroke line then flipping a shot over into the net. For her second goal she took a pass from O'Donnell, who had worked the ball the length of the sideline, spun away from a defender and scored her 26th goal of the season on a flick that went between Trentini's legs.

Three minutes later O'Donnell picked up her first goal of the game, bringing the ball straight down the field before pulling right and pushing home a running shot past the drawn-out goaltender. Kimmy Ganong '17 closed out the first-half scoring, converting a pass from Mettler Growney '17 with a one-timer just over 16 minutes in.

O'Donnell tallied her seventh of the season seven minutes into the second period, taking a pass from Emily Simonton '15 and scoring on a reverse stick chip. Pam Herter finished off a cross from Liz Znamierowski '16 for Bowdoin's final goal.

The Continentals' best scoring opportunity came early in the second half on a shot by Margaret Revera '18 that was headed for the open left corner of the cage past goaltender Hannah Gartner '15 before it was saved by Kelsey Mullaney '16.

Hamilton's Eva Rosencrans '17 finished the season with team-leading totals of 17 goals and 36 points. Both totals rank second on the program's single-season list, trailing only All-American Colleen Callaghan '11, who collected 19 goals and 49 points in 2010. In 29 games over her two-year career, Rosencrans has totaled 53 points. Her 25 goals are tied for fourth all-time at Hamilton.

The Continentals were making their second appearance in the NESCAC playoffs since joining the league in 2011 and their fifth overall postseason berth in the past seven years. Hamilton's 37 goals, 95 points and six victories all marked the program's best figures since 2010.