Field hockey shut out at Wesleyan
---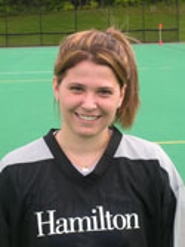 Ashley McLaren '13 scored two goals in the second half to lead Wesleyan University to a 4-0 victory over Hamilton College in a NESCAC game at Wesleyan's Smith Field on Sept. 16.

Averill Roberto '13 and Taryn Murray '13 tallied one goal apiece in the first half for the Cardinals. Roberto also picked up an assist on McLaren's first goal. Vanessa Block '15 chipped in two assists and Mackey Hemphill added one. Tori Redding '13 made two saves for her first shutout.

Victoria Trentini '15 made 14 saves and Casey Brown '16 had both shots for Hamilton. Wesleyan owned a 26-2 shot advantage as the Continentals took both shots in the second half. The Cardinals also led in penalty corners, 15-1.

Wesleyan (1-3 overall, 1-2 NESCAC) grabbed a 1-0 lead on Murray's unassisted goal 8 minutes, 22 seconds into the first half. Eight minutes later, Roberto made it 2-0 with a goal right in front of the cage.

McLaren scored her first goal in the 53rd minute off a two-way passing combination after a penalty corner. Her second goal came with 4:29 remaining when she redirected a pass by Block into the back of the cage.

Hamilton (0-4, 0-3) will face off against NESCAC opponent Amherst College at Amherst on Saturday, Sept. 22.