Field hockey shut out by No. 3 Tufts
---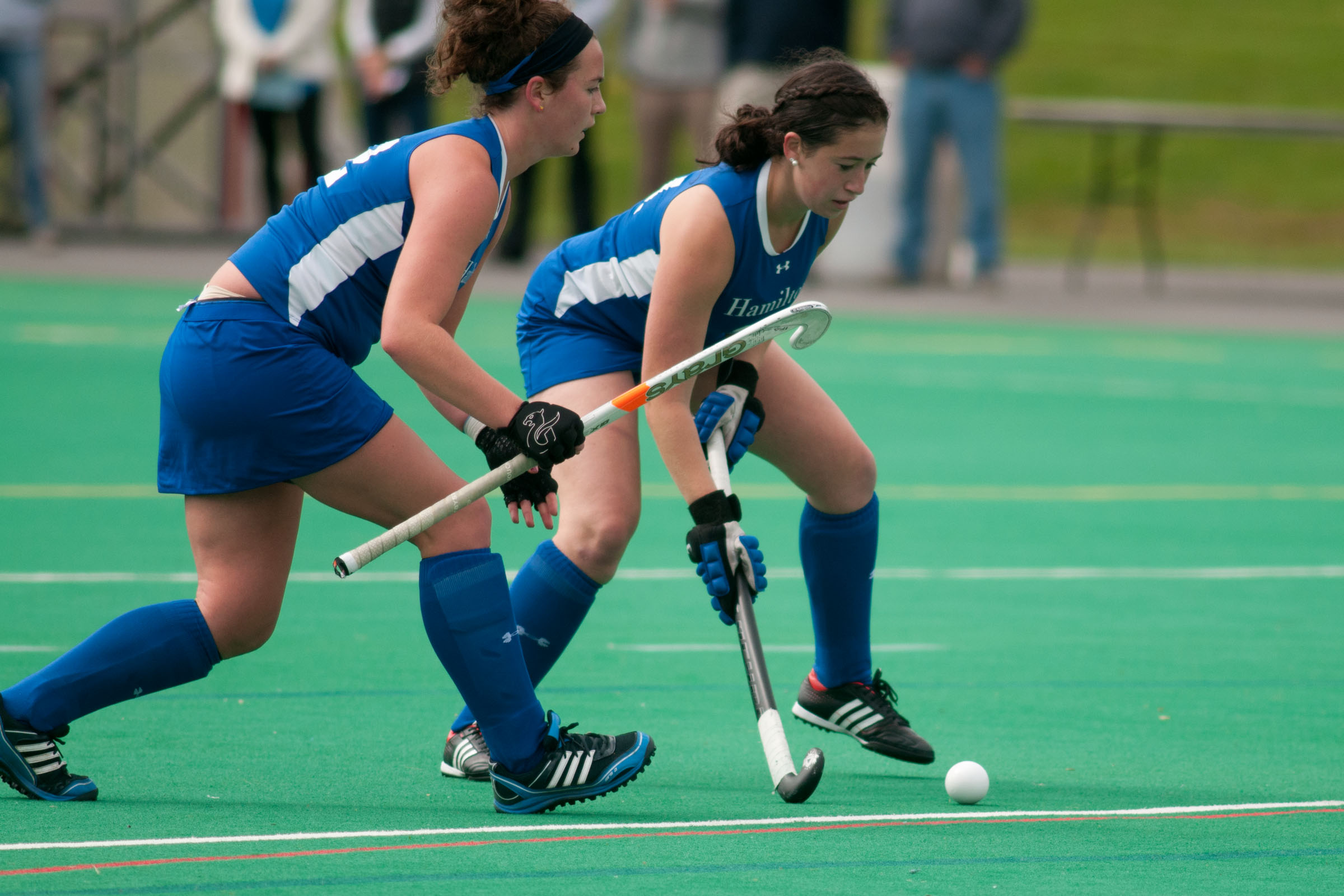 Tufts University scored a pair of goals early in the second half and the nationally ranked No. 3 Jumbos shut out the Hamilton College Continentals 2-0 in a NESCAC game at Hamilton's Campus Road Athletic Field on Oct. 26.

Box Score

Tufts (12-1, 8-1 NESCAC) recorded its seventh straight win and remained in a three-way tie for first place in the conference standings with Amherst College and Bowdoin College with one game left in the regular season. The Jumbos have won all three matchups in the all-time series with the Continentals.

Hamilton (3-10, 1-8) was saddled with its fifth straight loss and will miss the postseason. The Continentals are tied for ninth place in the conference standings and are two games out of the eighth and final spot with one contest remaining.

Emily Cannon '14 scored her fifth goal this year and Stephanie Wan '14 notched her first for Tufts. Brianna Keenan '15 needed to make just one save en route to her sixth shutout.

Victoria Trentini '15 made 11 stops in the cage for Hamilton. Trentini entered the week ranked No. 1 in the NESCAC with 10 saves per game. Sam Sherman '15 was credited with her fifth defensive save this year.

After a scoreless first half, it took the Jumbos just 98 seconds to grab a 1-0 lead in the second half. Cannon had possession after a restart, carried the ball just inside the circle and unleashed a hard, bouncing shot through traffic into the left side of the cage.

Tufts made it 2-0 with 27:21 left in the half. Alexandra Jamison '16 entered the ball on a penalty corner and eventually Dakota Sikes Keilp '16 smacked a shot that was saved by Trentini. The loose ball caromed out to Wan, who directed a long shot towards the cage that appeared to bounce off a couple defenders before it went in.

The Jumbos enjoyed a 19-5 shot advantage, including 13-1 in the second half. Tufts was awarded five penalty corners to four for the Continentals.

Hamilton wraps up 2013 with another NESCAC game at Williams College on Wednesday, Oct. 30. The Jumbos finish their regular season with a conference showdown at home against Bowdoin on Wednesday.