Field hockey shuts out Bates in NESCAC thriller
---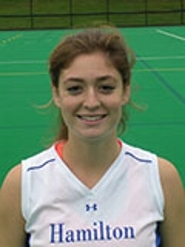 Hamilton College's Eva Rosencrans '17 scored with 9:42 left in the second half and lifted the Continentals to a 1-0 NESCAC win against the Bates College Bobcats at Hamilton's Campus Road Athletic Field on Sept. 14.

The Continentals (1-2 overall, 1-1 NESCAC) ended a 22-game losing skid that dated back to Oct. 11, 2011, when Hamilton defeated SUNY Geneseo, 4-1. The Continentals have won two out of their three meetings with Bates.

Victoria Trentini '15 made four saves and posted her second career shutout for Hamilton. Trentini has a save percentage of .828 in three games.

Becca Otley '14 helped keep the Bobcats in the contest by stopping 12 shots, including nine in the first half. Bates has lost three in a row after it opened the season with an 8-2 victory against Thomas College.

The Continentals threatened to get on the scoreboard for virtually the entire game as they enjoyed a 29-7 shot advantage and were awarded 18 penalty corners to just four for the Bobcats. Hamilton's best chance in the first half came with 17:23 left when it was awarded a penalty stroke but Rosencrans' lofted shot was batted out-of-bounds by Otley.

Bates nearly took the lead with about 30 seconds left in the opening half. A shot by Claire Markonic '17 was stopped but she put the ball in the back of the cage a few seconds later. However, the officials ruled the ball had deflected off a Bobcat player's leg right before Markonic scored.

The Continentals kept the pressure on in the second half and they were finally rewarded with Rosencrans' second goal this year that followed a scramble in front of the cage. Bates didn't get off another shot the rest of the way.

Hamilton travels to Connecticut College for another NESCAC game on Saturday, Sept. 21. The Bobcats are at Wesleyan University for NESCAC action on Saturday.