Field hockey shuts out Rochester
---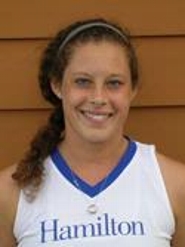 Erin McNally '12 scored one goal and assisted on the other to lead Hamilton College to a 2-0 win against visiting University of Rochester in a Liberty League game at Campus Road Athletic Field on Sept. 26.

McNally has two goals and is tied for the team lead with three assists this season. Amy Allen '10 scored her second goal in as many days and Colleen Callaghan '11 added an assist. Callaghan leads the team with 15 points and is tied for second place on the program's all-time list with 60. Courtney DeMaria '10 stopped two shots and recorded her second shutout.

Hamilton (4-1 overall, 2-0 Liberty) posted its first win against the Yellowjackets since 1995. Rochester (3-5, 0-2) had won the previous 13 meetings.

After a scoreless first half, McNally gave the Continentals a 1-0 lead 5 minutes, 19 seconds into the second. Allen clinched the victory on her goal with 2:33 remaining.

Rochester held an 11-7 edge in shots, including 7-1 in the first half, and both teams were awarded six penalty corners.

Hamilton has outscored its opponents 11-3 after halftime this year. The Continentals travel away from home for the first time in 2009 on Tuesday, Sept. 29, when they visit Hartwick College for a non-league game.