Field hockey shuts out Utica College
---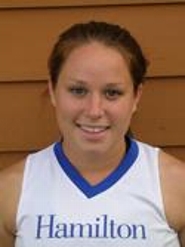 Colleen Callaghan '11 led the Hamilton College offense with three goals in a 4-0 win over Utica College at Campus Road Athletic Field on Sept. 12.
This was just the second time in eight meetings that Hamilton (2-0 overall) has defeated Utica College (2-2). It is also the first time since 1983 that the Continentals have started off their season with two wins.

Callaghan is tied for third on the program's all-time list with 20 goals. She is also fourth with 58 career points.
A disallowed goal early in the first half seemed to dishearten a Utica College offense that was held to just three shots in the game. With 5:37 remaining in the first half, Callaghan scored Hamilton's first goal on a penalty stroke. One minute and 19 seconds later, Callaghan connected on a pass from Marisa Spagnolo '12 making the score 2-0. The assist was Spagnolo's first career point.
Three minutes and 54 seconds into the second half, Callaghan came at the goal from the left side and dribbled the ball around a defender. She took the shot from directly in front of the goal putting the ball past another Utica defender. With the goal she increased Hamilton's lead to 3-0 and upped her season total to six. With 10:36 left in the game, Charlotte Lescroart '13 took the rebound off a shot from Amy Allen '10 and put it past the Utica goalie for her first collegiate goal.
Hamilton held the advantage in penalty corners, 11-6. Courtney DeMaria '10 only needed to make one save in the win. The shut out is the sixth in her career.
The Continentals return to play on Sept. 15 when they host SUNY Cortland at 4:00 p.m. for another non-league game.