Field hockey suffers loss against SUNY Oneonta
---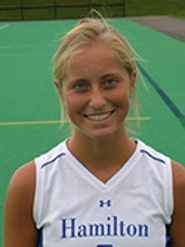 Ashley Johnson '13 posted two goals and one assist as SUNY Oneonta breezed to a 6-2 win against Hamilton College in a non-conference game at Hamilton's Campus Road Athletic Field on Sept. 25.

Oneonta (7-2 overall) won its fourth straight game and has outscored those opponents 17-3 during the streak. The Red Dragons go for five in a row in SUNYAC action at SUNY Brockport on Friday, Oct. 5.

Chelsea Remling '15, Suzanne Wright '13, Andrea Day '15 and Kelcy Forbragd '15 scored one goal each for Oneonta. Ashley Morgan '14 and Sierra Earle '15 were credited with one assist apiece. Tess Tracy '15 started in goal and stopped all four shots she faced in the first half. Krista Servedio '16 relieved Tracy at the start of the second half and played 29-plus minutes in goal. Emma Wasserman '15 made two saves in the final 5 minutes, 23 seconds.

The Continentals (0-6) received two goals from Kate Anderson '16. Anderson leads the team with six points (2 goals, 2 assists). Casey Brown '16 came off the bench to register one assist. Victoria Trentini '15 turned away nine shots in nearly 63 minutes in goal. Trentini came into the evening tops in NCAA Division III with 17.6 saves per game. Katie White '16 relieved Trentini and made two saves in 7:12.

Johnson put the Red Dragons on the scoreboard just 69 seconds into the first half. She gained possession of the ball around midfield, weaved through the defense and fired a shot past Trentini from the middle of the circle.

Remling made it 2-0 with 18:05 left in the first half when she scored off a penalty corner. Oneonta owned an 11-5 advantage on corners. Wright gave the Red Dragons a three-goal cushion on another fine individual effort with 15:57 remaining in the half. She carried the ball down the left sideline and into the circle, and slipped a shot past a charging Trentini. Oneonta led 3-0 at the break.

Day made the score 4-0 with 14:54 left, but Hamilton avoided the shutout 53 seconds later. After a shot by Brown was blocked by a defender, she regained possession and passed off to Anderson for a shot that found the back of the cage from point-blank range.

Johnson notched her second goal of the night with 7:12 remaining, and the Red Dragons made it 6-1 with 5:23 left. Earle passed the ball from outside the circle to Forbragd, and Forbragd launched a shot from the middle of the circle past White, who was screened on the play.

Anderson rounded out the scoring with 1:56 remaining. Maddi Hicks '16 put a shot on goal that was stopped by Wasserman, and Anderson scored a few seconds later amidst a flurry of activity in front of the cage.

Day and Wright lead Oneonta with seven goals apiece, and Johnson has a team-high six assists. The Red Dragons boasted a 29-13 shot advantage, and now lead the all-time series, 23-11-1, between these programs.

The Continentals return to NESCAC play on Saturday, Sept. 29, when they host Bates College. Both teams will be aiming for their first conference win of 2012.