Field hockey team's rally comes up short
---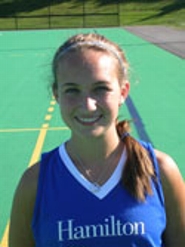 Skidmore College scored two goals early in the first half and hung on for a 2-1 win against Hamilton College in a Liberty League game that featured two nationally ranked teams at Hamilton's Campus Road Athletic Field on Oct. 24.

No. 7 Skidmore (14-1 overall, 7-0 Liberty) clinched the league's regular season title and the No. 1 seed in the league tournament. The Thoroughbreds -- winners of 13 straight -- will host Union College in one tournament semifinal on Wednesday, Nov. 3.

No. 14 Hamilton (11-2, 6-1) had its win streak end at nine games. The Continentals earned the No. 2 seed for the league tournament for the second straight year, and will host William Smith College in the other semifinal on Nov. 3.

This contest was a tale of two halves. Skidmore dominated the first half with a 17-1 shot advantage, but Hamilton picked up the pace after the break, and took 17 shots in the final 35 minutes.

Annie Rosencrans '12 gave the Thoroughbreds a 1-0 lead just under seven minutes into the first half when she scored her 14th goal. The goal followed a penalty corner, and Carolyne McManama '11 and Lauren McCarthy '11 were credited with assists.

Skidmore tallied the eventual deciding goal with 20:41 left in the half. Ceilidh MacNeill '13 notched her fourth goal on a shot from close range, and Kelly Blackhurst '14 picked up the assist.

The Continentals' head coach Gillian McDonald called a timeout after the second goal and it seemed to settle her players down. Hamilton trailed 2-0 at the half, but came out in the second half firing on all cylinders.

Nikki Haskins '14 finally put the Continentals on the scoreboard with her ninth goal with 22:38 remaining, when she poked in a rebound of a shot by Katherine Bossler '12 that was saved by the goalie. Hamilton didn't build on that momentum, and lost for the first time since Sept. 14.

Liz Catinella '11 made eight saves for the Thoroughbreds. Molly Brooks '14 stopped a season-high 13 shots, including nine in the first half, for the Continentals.

Skidmore held a 25-18 shot advantage, and was awarded 14 penalty corners to 10 for Hamilton. The Thoroughbreds have won 15 in a row against the Continentals, and now lead the all-time series, 19-14.

Hamilton travels to Morrisville State College for a non-league game on Wednesday, Oct. 27.