Field hockey topped at No. 10 Amherst
---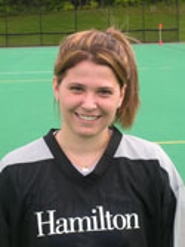 Kristy Zsitvay '14 and Katie McMahon '13 scored two goals apiece as nationally ranked No. 10 Amherst College shut out Hamilton College 5-0 in a NESCAC game at Amherst's Gooding Field on Sept. 22.

Madeline Tank '15 also added a goal for the Lord Jeffs. Zsitvay and Katie Paolano '16 each chipped in an assist. Rachel Tannenbaum '15 only needed to make two saves to secure the shutout.

Victoria Trentini '15 stopped a season-high 29 shots for Hamilton. Katie White '16 relieved Trentini for the final 2 minutes, 10 seconds, and recorded her first collegiate save. Madison Molho '14 and Sam Sherman '15 made one defensive save apiece.

Trentini kept the Lord Jeffs off the scoreboard for the first 18 minutes while she made 10 saves. Zsitvay struck first with 15:56 remaining in the first half when she received a pass with her back to the goal, turned and ripped a shot to the corner of the cage. Less than three minutes later, Zsitvay led the charge again as she found McMahon, who connected on a one-timer with 13:14 left.

Amherst (5-0 overall, 2-0 NESCAC) made it 3-0 with 7:55 remaining in the first half when Paolano tipped the ball ahead to Tank who scored on a one-timer. The Jeffs held a 23-1 shot advantage in the first half.

Trentini came out hot again in the second half, and kept Amherst scoreless for the first 28 minutes. But the Jeffs scored twice in a 71-second span as McMahon poked in her own rebound with 6:47 remaining, and Zsitvay knocked in an unassisted goal with 5:36 left.

The Jeffs tacked on 26 shots in the second half and held a 49-3 shot advantage for the game. Amherst controlled penalty corners with a 19-3 edge. Saturday marked only the second meeting between the teams. Hamilton won last year's series debut 2-1 in Clinton.

The Continentals (0-5, 0-4) take a break from conference action to host SUNY Oneonta on Tuesday, Sept. 25.