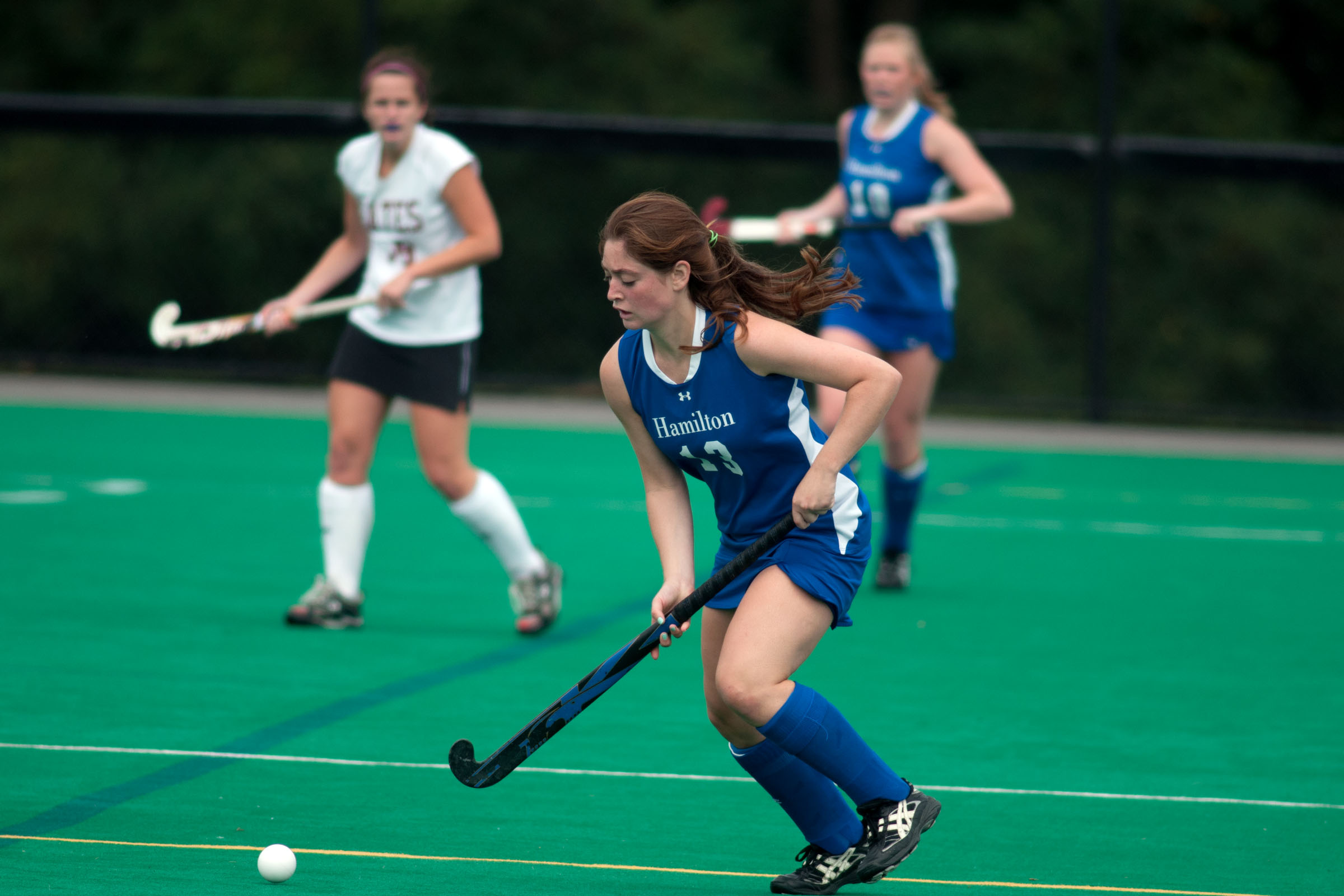 The Hamilton College field hockey team (1-0) opened the 2014 season with a 2-1 win over the visiting SUNY Geneseo Knights (1-2) Wednesday at Hamilton's Campus Road Athletic Field. The win marked the third time in six years that the Continentals have started the season by beating Geneseo.

Box Score

Eva Rosencrans '17 scored both Hamilton goals, putting the Continentals up 2-0 just 17:20 into play. She opened the game's scoring with an unassisted goal 124 seconds in, putting a long shot from the left side past Geneseo goaltender Dayna Mercer '16. She tallied her 10th career goal 15 minutes later, finishing off a give-and-go play with Katey Hopper '15. Rosencrans carried a long lead pass to the left post, dished to Hopper on the right side then buried Hopper's return pass into the vacated goal.

The Continentals outshot Geneseo 38-10, including a 20-4 advantage in the first half. The Knights tallied a late goal in the period, getting on the board with 3:49 left until intermission on a goal by Cara Stafford '18. Stafford, who has scored three of Geneseo's four goals this fall, took a lead pass from Sarah Malinak '16 and converted a short shot.

The Continentals held Geneseo without a shot for the game's final 19 minutes and nearly added to their lead on a shot by Emma Anderson '17 in the 62nd minute but Mercer dove to her right for one of her 14 saves.

Hamilton's Victoria Trentini '15 made one save in the win and Sam Sherman '15 added a defensive save (the 16th of her career).

Rosencrans, Hamilton's leading scorer last fall, raised her career total to 21 points in 15 games. The two-goal performance was the second of her career.

The Continentals have won six of the last seven meetings between the two teams and now own an 8-7 series advantage over the Knights.

Hamilton opens NESCAC play Saturday, hosting Trinity College in an 11 a.m. contest. The Knights play at sixth-ranked Skidmore.