Field hockey tripped up at Conn. College
---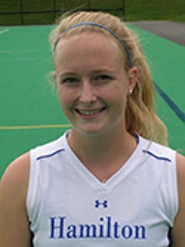 Brittany Fitzgerald and Ali Holland posted one goal and one assist apiece as Connecticut College remained undefeated with a 3-1 win against Hamilton College in a NESCAC game at Conn. College's Silfen Field on Sept. 15.

Jennifer Morgan scored the Camels' other goal, and both Kelsey Nickerson and Heidi Halsted were credited with one assist. Becca Napolitano made two saves -- both in the second half.

Caroline Clarke '14 tallied her second goal and Kate Anderson '16 picked up her second assist for Hamilton. Victoria Trentini '15 turned away 13 shots. Madison Molho '14 and Samantha Sherman '15 finished with one defensive save apiece.

Hamilton (0-3 overall, 0-2 NESCAC) grabbed a 1-0 lead with 15:51 left in the first half when Clarke and Anderson broke in alone on Napolitano. Morgan drew Conn. College even with a goal off one of the Camels' 16 penalty corners as time expired in the first half.

Conn. College (3-0, 2-0) pulled ahead on Fitzgerald's goal 5 minutes, 59 seconds into the second half. Holland added an insurance goal with 7:04 remaining when she re-directed a hit by Halsted from the right side of the circle. The Camels owned an 18-3 shot advantage.

The Continentals travel to Wesleyan University for another NESCAC contest on Sunday, Sept. 16.