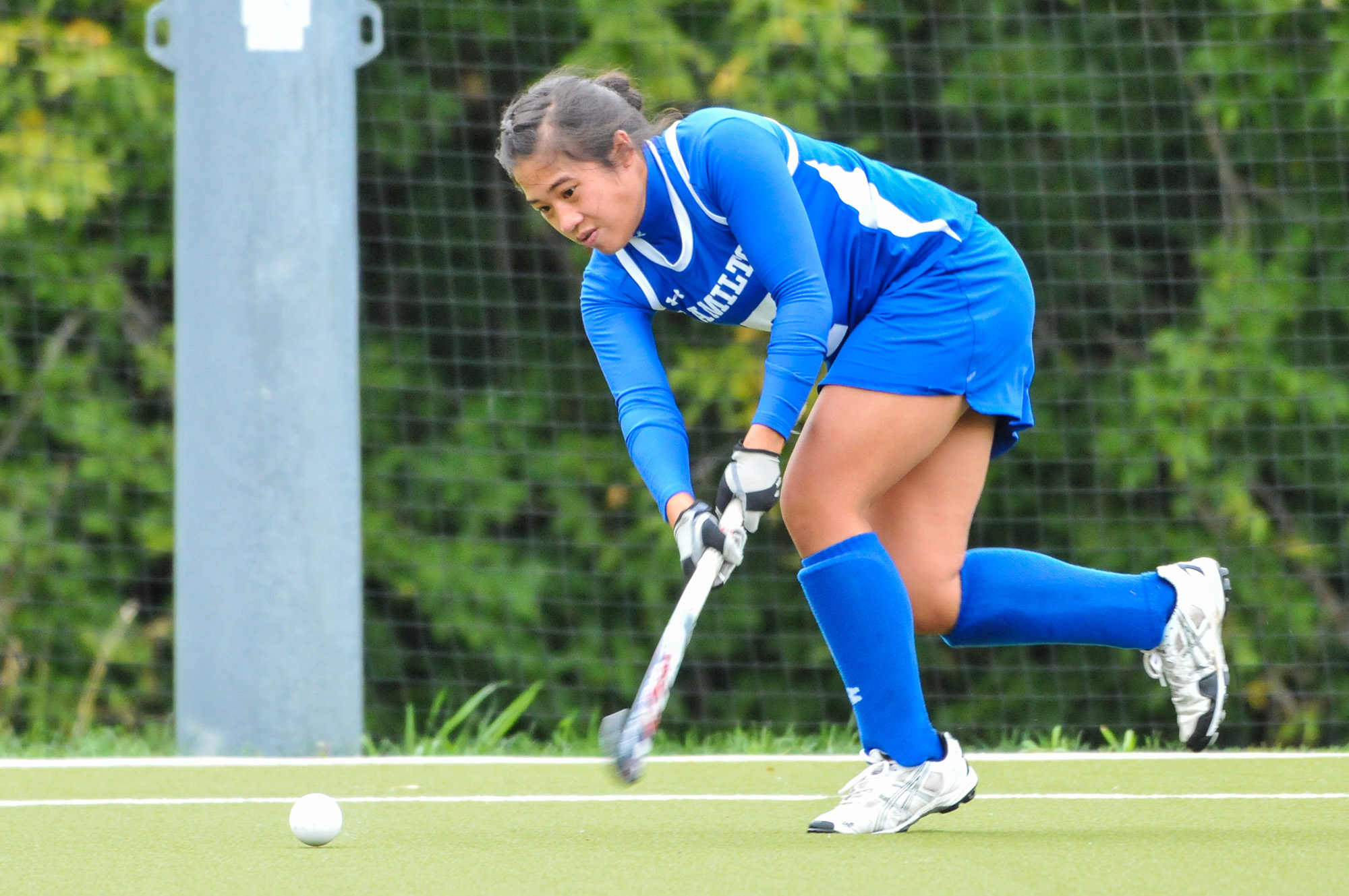 The Hamilton College Continentals traveled to Brunswick, Maine, and lost 4-1 against nationally ranked No. 2 Bowdoin College in a NESCAC game played at Bowdoin's Ryan Field on Saturday afternoon.

Box Score

Margaret Revera '18 spoiled the Polar Bears' shutout bid with her third goal this year and the fourth of her Hamilton career with 1:09 left in the second half. Merisa Dion '17 was credited with her third assist and is third on the team with 11 points. Julia Booth '19, who entered the day ranked 20th in Division III with 9.90 saves per game, made seven stops. Aly Skelly '18 picked up her second defensive save of 2015.

Liz Znamierowski led Bowdoin (11-0, 7-0 NESCAC) with a pair of goals. Rachel Kennedy and Kimmy Ganong chipped in one apiece, and Clara Belitz turned away five shots.

Revera blasted a shot from the top of the circle off a penalty corner insert by Dion. Revera's shot found the far right side of the cage.

Kennedy put Bowdoin on the board 13:36 into the first half as she tipped a drive from Emily McColgan off a penalty corner. Znamierowski scored her first of two goals with just over 11 minutes to play in the half as she collected a loose ball in the circle outside the left post and spun around to sweep a shot to the opposite corner.

Hamilton's offense pressured Bowdoin early in the second half with a promising scoring opportunity coming off a Polar Bear turnover deep in their own defensive end. Dion intercepted a free hit coming outside the circle and carried the ball back in to challenge Belitz. As Dion went to shoot, Belitz dove and absorbed the shot in her pads.

Znamierowski made it a three-goal game 8:20 into the second half after burying a feed from Emma Olney. Olney sent a long ball into the circle from a side-in just outside the 25 and Znamierowski pulled to her reverse stick and swept in her second goal of the day. Ganong rounded out Bowdoin's scoring three minutes later when she flipped in a rebound off the goalie's pads.

The Polar Bears held a 15-6 shot advantage, including 8-1 in the first half, and were awarded seven penalty corners to three for the Continentals (7-5, 3-5). All five Hamilton losses have come against ranked NESCAC opponents.

The Continentals travel to No. 20 Williams College for another NESCAC game on Wednesday, Oct. 21, at 6 p.m.