Field hockey tripped up by Colby
---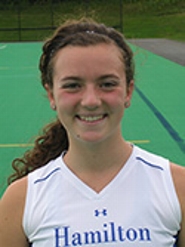 Courtney Erskine '13 and Caitlin Murray '14 posted one goal and one assist apiece and Colby College edged Hamilton College 2-1 in a NESCAC game at Hamilton's Campus Road Athletic Field on Oct. 14.

Colby (5-7 overall, 1-7 NESCAC) snapped a three-game losing streak and improved to 4-1 all-time against the Continentals. Michelle Burt '14 made three saves for the Mules, who enjoyed a 27-5 shot advantage. Colby was awarded five penalty corners to Hamilton's two.

Aubrey Coon '16 scored her first goal for the Continentals and Katey Hopper '15 was credited with her first career assist. Victoria Trentini '15 turned away 12 shots.

The Mules grabbed a 1-0 lead after they were awarded a penalty corner as time expired in the first half. With no time left on the clock, Erskine entered the ball to Murray. Murray controlled the ball and passed to her left back to Erskine, who hammered a shot that found the back of the cage for her first goal.

Hamilton (0-12, 0-9) tied the score just 3 minutes, 39 seconds into the second half. Hopper entered the ball on a penalty corner to the stopper Coon, who settled the ball and unleashed a hard shot that beat Burt.

Colby took the lead for good on yet another penalty corner situation with 26:34 left. Erskine started the play again as the ball went to Murray at the top of the circle. Murray stopped it and cracked a shot that zipped past Trentini for her fourth goal.

The Continentals didn't get a shot on Burt the rest of the afternoon. Charlotte Lescroart '13 and Leah Cairns '13 played their last home game at Hamilton.

The Continentals travel to nationally ranked Tufts University on Saturday, Oct. 20, for their final NESCAC game of 2012. The Mules host Williams College in conference action on Saturday.