Field hockey upsets No. 12 Amherst
---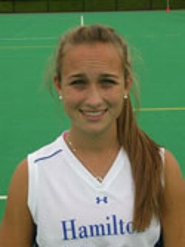 Mary Lancaster '12 gave Hamilton College the lead just 1:57 into the first half, and Nikki Haskins '14 scored her third goal of the season as the Continentals defeated nationally ranked No. 12 Amherst College 2-1 in a NESCAC game at Hamilton's Campus Road Athletic Field on Sept. 24.

Hamilton (3-1 overall, 2-1 NESCAC) handed Amherst its first loss of the season. Today's contest was the first-ever meeting between the two programs.

Lancaster's goal was also her third of the season, and she has scored in three consecutive games. Caitlin Livsey '12 was credited with the assist -- her first of the year.

Haskins' unassisted goal at 9:53 of the first half put the Continentals ahead 2-0. She leads Hamilton with seven points this season.

Amherst (4-1, 3-1) cut Hamilton's lead in half at 25:40 of the first half when Sarah Canning netted an unassisted goal. The goal was her second of the year.

Hamilton goalkeeper Victoria Trentini '15 finished with eight saves. The Continentals held a 14-11 shot advantage, and Amherst was awarded six penalty corners to Hamilton's three.

Hamilton hosts Wesleyan University for a NESCAC game on Sunday, Sept. 25, at 1 p.m.