Field hockey upsets No. 15 William Smith
---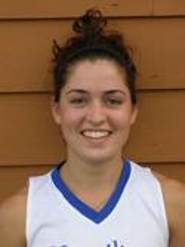 Mary Lancaster '12 scored with 11:10 left in the first sudden-victory overtime period to lift host Hamilton College to a 4-3 win against nationally ranked and previously unbeaten William Smith College in a Liberty League game played at Campus Road Athletic Field on Sept. 25.

Hamilton (3-1 overall, 1-0 Liberty) rebounded from a three-goal deficit to shock the 15th-ranked Herons. The Continentals edged William Smith (6-1, 0-1) in overtime 3-2 last year.

Lancaster also tied the score on her first goal this season with 12:55 left in regulation, when she tipped in a shot by Catie Torcivia '12. Torcivia started the comeback with 19:49 remaining with a goal as she redirected a shot by Sarah Flisnik '12.
Amy Allen '10 pulled the Continentals within 3-2 with 13:32 left on one of Hamilton's 20 penalty corners. Erin McNally '12 entered the ball and Colleen Callaghan '11 stopped it for Allen, who hammered a shot that deflected off a defender and the goalie before hitting the back of the cage.

William Smith grabbed a 1-0 lead 10 minutes, 13 seconds into the first half. Eleven minutes later, the Herons scored their second goal. William Smith had a seemingly comfortable 3-0 advantage with 7:36 left in the first half.

Courtney DeMaria '10 made 12 saves for the Continentals. Hamilton held a 24-22 edge in shots and William Smith was awarded 16 corners.

The Continentals host the University of Rochester for another league game on Saturday, Sept. 26.