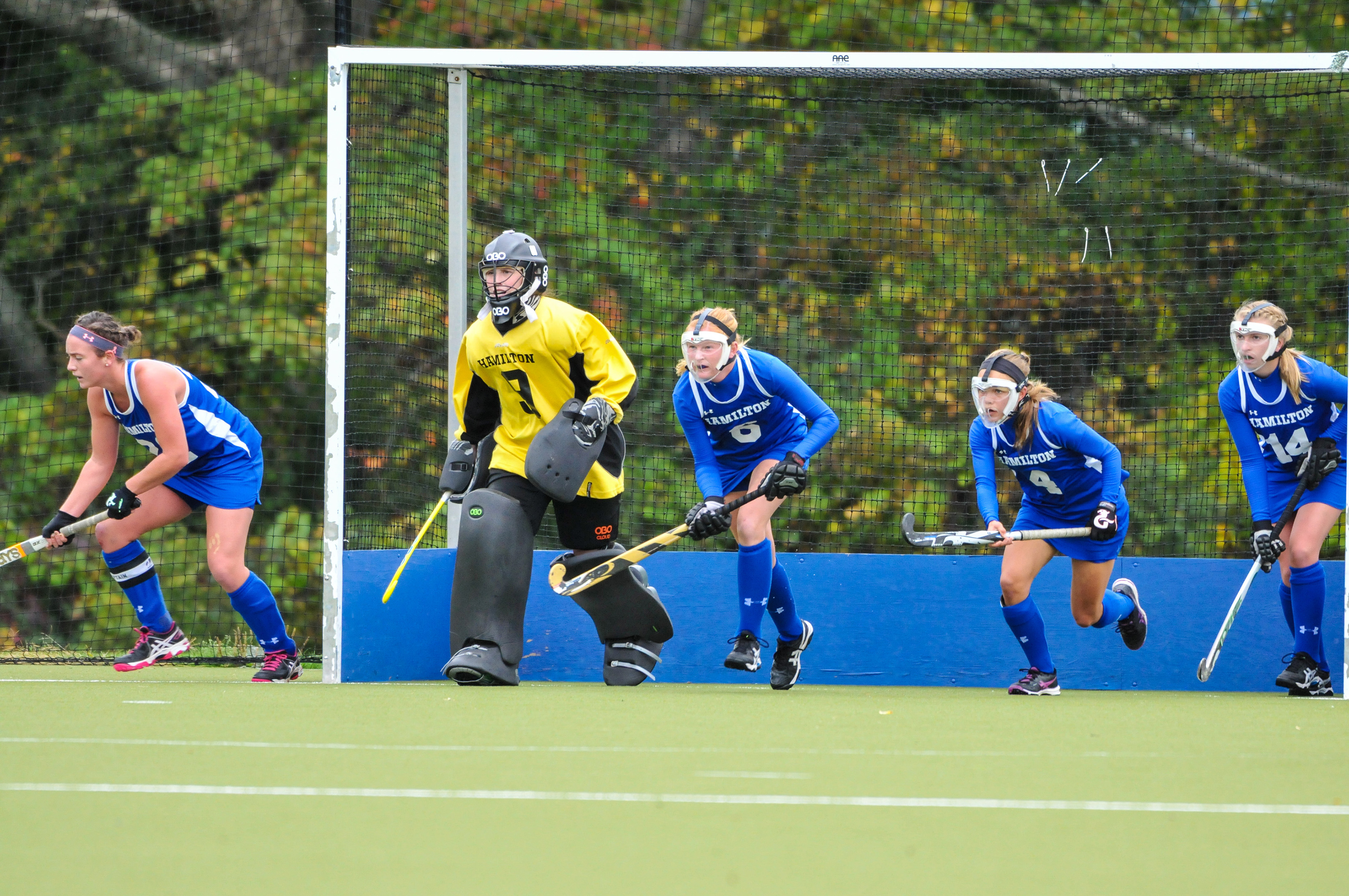 Tufts University's Dominique Zarrella '17 and Hannah Park '16 scored two goals apiece and the nationally ranked No. 12 Jumbos posted a 6-1 NESCAC win against the Hamilton College Continentals at Hamilton's Campus Road Athletic Complex on Sunday afternoon.

Box Score

Zarrella leads Tufts (6-2, 4-1 NESCAC) with seven goals and 14 points. Hanaa Malik '19 chipped in a goal and an assist, and Fallon Shaughnessy '19 scored her first collegiate goal. Dakota Sikes-Keilp '16 was credited with her team-high seventh assist and had one of the Jumbos' three defensive saves. Ellexa Thomas '18 and Amanda Weeks '18 had the others. Emily Polinski '19 turned away six shots in goal.

Merisa Dion '17 scored her second goal this year for the Continentals on an assist by Eva Rosencrans '17. Julia Booth '19 stopped nine shots before she was relieved by Mary Kalb '19 late in the second half. Kalb made two saves in six-plus minutes.

Tufts had a great chance to take a 1-0 lead a little more than six minutes in when the Jumbos were awarded a penalty stroke, but Booth made a diving save to her right to spoil a bid by Elle Chrupcala '17 to score her fourth goal this year.

Park gave Tufts the early lead anyway with 20:14 left in the half on an assist from Malik. Dion tied the score less than a minute later when she tipped Rosencrans' backhand shot from the penalty stroke area.

Zarrella put the Jumbos ahead for good with 10:17 to go in the half on the third of a quick flurry of shots by Tufts. Hamilton had a great opportunity to tie the score as time ran out in the first half when the Continentals were awarded a pair of penalty corners. Rosencrans was denied by Polinski and by a defensive save, and a third shot by Casey Brown '16 was stopped via another defensive save.

Hamilton (6-3, 3-3) continued to pour on the pressure after the break. The Continentals had three penalty corners and took five shots on goal during the opening seven minutes of the second half but couldn't get the ball past Polinski. After that it was all Jumbos as Hamilton mustered one shot in the final 28 minutes.

Malik made it 3-1 on her second goal with 22:39 remaining when she carried the ball into the circle from the right side and slid a shot to the right of the goalie despite the fact she was tightly defended the whole time.

Park gave Tufts a three-goal cushion on her fifth goal with 15:31 left. Alexandra Jamison '15 fed a pass to Park and she unleashed a one-timer from the right side.

Zarrella put the Jumbos up by four with 10:59 to go. Sikes-Keilp moved the ball along the end line on the right side and made a quick pass to Zarrella, who tapped it in from point-blank range. Shaughnessy scored the afternoon's final goal with 2:41 remaining on a play similar to the one in which Zarrella scored Tufts' fifth goal. Maggie Chapman '16 was credited with the assist.

The Jumbos owned a 24-14 shot advantage, including 15-7 in the second half, and both teams took seven penalty corners. The Continentals entered the day with a three-game win streak overall and a 4-0 record this year at home. Tufts has won all five meetings with Hamilton.

The Continentals travel to SUNY Oneonta for a non-conference contest on Thursday, Oct. 8. The Jumbos play a NESCAC game at Amherst College on Monday at 7 p.m.