Field hockey wins first meeting with Williams
---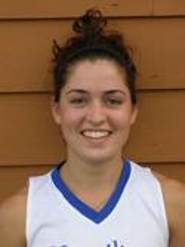 Mary Lancaster '12 scored a goal that snapped a 2-2 tie with 3:18 left in the second half and lifted visiting Hamilton College to a 3-2 win against Williams College in a non-league game played at Renzie Lamb Field on Oct. 15.
Lancaster and Amy Allen '10 recorded one goal and one assist apiece for Hamilton (7-3 overall). Courtney DeMaria '10 made nine saves, including seven in the second half.
This was the first-ever meeting between the two programs, and it turned out to be a classic. The Continentals never trailed, but the score was tied twice before Lancaster's game-winner.
Colleen Callaghan '11 gave Hamilton a 1-0 lead with her team-leading eighth goal 10 minutes, 28 seconds into the first half. She received a pass sent into the circle by Allen and put a shot into the back of the cage. Callaghan leads the team with 21 points. Allen was credited with her first assist this year.
Williams (5-5) tied the score 75 seconds later, and the teams went into the half deadlocked at 1-1. The Continentals regained the lead following a penalty corner 2:23 into the second half. Callaghan passed to Lancaster from just outside the circle and Lancaster fired a shot towards the goal. Allen redirected the shot past the goalie for her fifth goal.
The Ephs answered quickly again, as they took a little more than three minutes to tie the score at 2-2. Neither team scored again until Lancaster sent a shot from in front through a crowd that settled in the back of the cage for her fifth goal. Charlotte Lescroart '13 picked up her first collegiate assist on the play.
Williams owned a 23-16 advantage in shots and was awarded 13 penalty corners to six for Hamilton. The Continentals are off until Saturday, Oct. 24, when they travel to Vassar College for a Liberty League game at 3 p.m.