Field hockey wins fourth straight game
---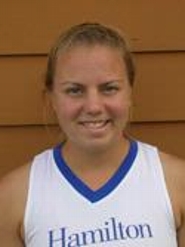 Catie Torcivia '12 scored both Hamilton College goals in the Continentals' 2-0 win over visiting Nazareth College in a non-league game played at Campus Road Athletic Field on Oct. 29.
Hamilton (10-3 overall) won its fourth straight game and tied a program record for victories in one season. Hamilton also posted 10 wins in both the 1990 and 1991 seasons. Nazareth (6-9) lost its sixth straight game.
Torcivia put the Continentals on the scoreboard in the 27th minute. Erin McNally '12 fired a shot that was saved by the Nazareth goalie. Torcivia was there to collect the rebound and put a shot into the back of the cage.
In the 53rd minute, Torcivia scored her fourth goal of the season and put Hamilton up 2-0. The ball was played into the circle where it was deflected by Holly Rodiger '11 right to Torcivia, who one-timed a shot past the goalie. The assist was Rodiger's second this year.

Courtney DeMaria '10 only needed to make three saves to earn her fourth shutout of the season. The Continentals dominated in shots with 31 to Nazareth's six. Hamilton also enjoyed a 15-1 advantage in penalty corners.
Hamilton plays its final game of the regular season on Saturday, Oct. 31, when it hosts Morrisville State College for a non-league game at 1 p.m.