Field hockey wins shootout with Geneseo
---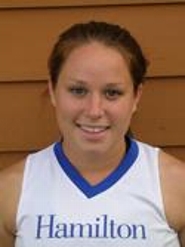 Colleen Callaghan '11 was credited with three assists to lead Hamilton College to a 4-2 win against SUNY Geneseo in a non-league game at Hamilton's Campus Road Athletic Field on Sept. 4.
The Continentals were playing their 2010 opener after they won a program-record 12 games and advanced to the NCAA Division III championships for the first time last year. Geneseo (1-1 overall) was on the road for the second time this week after a 2-1 overtime victory at the University of Rochester on Sept. 1.
Erin McNally '12 gave Hamilton the lead for good just 35 seconds into the first half when she fired a shot into the back of the cage off a penalty corner. Callaghan and Catie Torcivia '12 were credited with the assists. Callaghan moved into first place on the team's all-time list with her 25th career assist on the play.
Callaghan had a chance to make the score 2-0 less than three minutes in, but her penalty stroke sailed wide left of the goal. The Continentals did get their two-goal cushion with 22:43 left in the half when Charlotte Lescroart '13 deflected a shot by Mary Lancaster '12 past the goalkeeper.
Erin Zalewski '11 cut the Blue Knights' deficit in half with 9:12 remaining before the break. Nikki Haskins '14 restored Hamilton's two-goal lead with her first collegiate goal in her first game 9:02 into the second half. Kayla DeAngelis '14 made the score 3-2 with her second goal this year and 9:20 left. Torcivia accounted for the final margin and finished a three-point day as she re-directed a shot by Callaghan into the goal in the closing seconds.
Molly Brooks '14 made four saves for the Continentals in her collegiate debut, and Meghan Carter '12 was credited with a defensive save. Caitlyn Dowell '13 stopped two shots for Geneseo. The Blue Knights held a 14-11 shot advantage, but Hamilton owned an 11-9 edge in penalty corners.
Geneseo still leads the all-time series 6-5, but the Continentals have won the last three meetings. Hamilton travels to Utica College for another non-league game on Sept. 11, and the Blue Knights are at Houghton on Sept. 14.