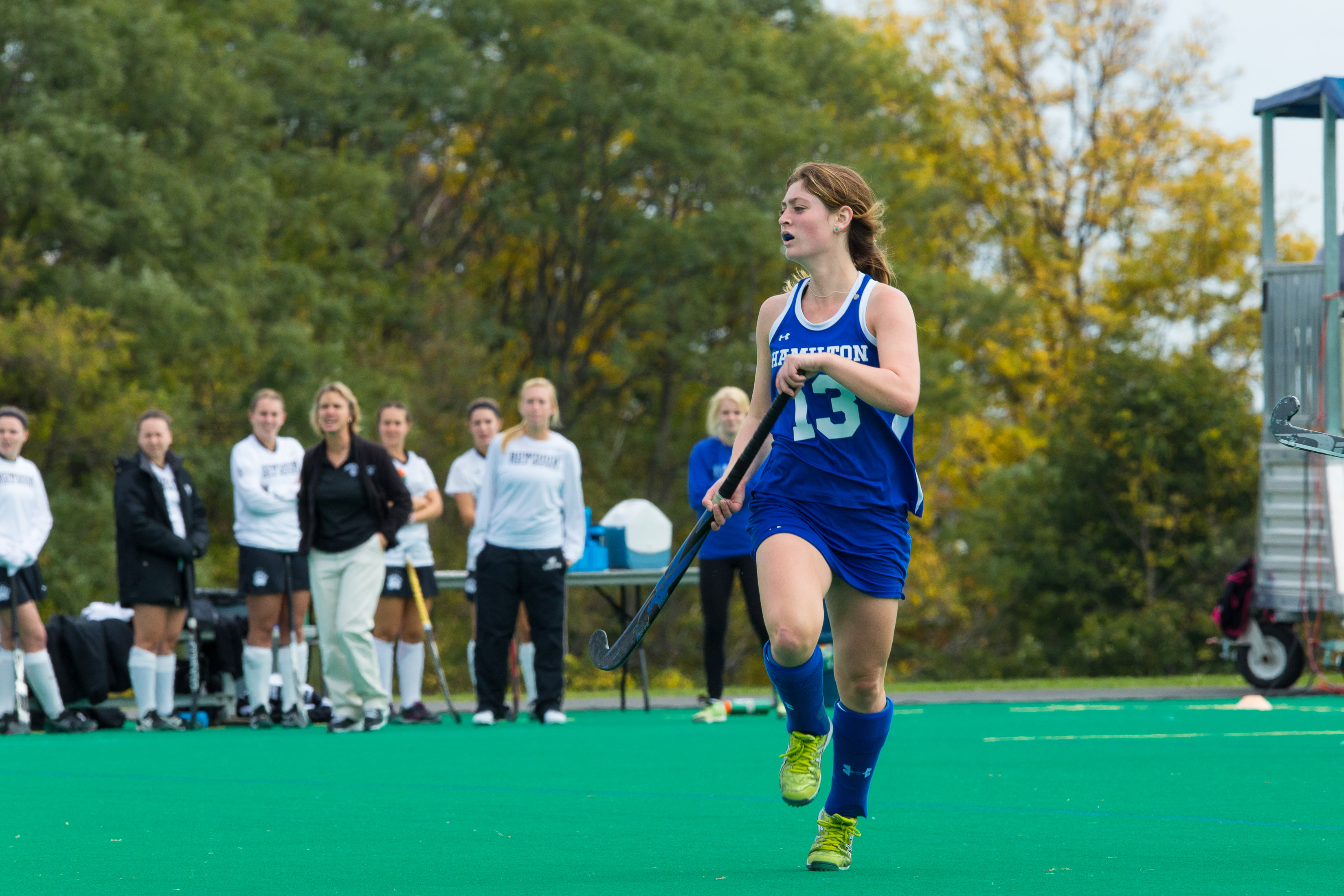 Hamilton College's Eva Rosencrans '17 scored just 1:53 into the first sudden-victory overtime period and lifted the Continentals to a 4-3 NESCAC win against the host Connecticut College Camels on Saturday afternoon.

Box Score

Hamilton (5-2, 2-2 NESCAC) cashed in on its eighth penalty corner of the day for the game-winner as Rosencrans hammered a shot into the back of the cage on a centering pass from Casey Brown '16. Rosencrans is tied for second in the NESCAC with seven goals and is tied for third with 16 points. She has scored 32 goals in two-plus years for the Continentals.

Brown had a career day with two goals and one assist, and Aubrey Coon '16 added her second goal this year. Julia Booth '19 kept Hamilton in the game by making a season-high 21 saves, including 15 in the second half. The Continentals have won their last two games by identical 4-3 scores.

Jamie Navoni led Connecticut Coll. with two goals and Katlyn Paiva chipped in one goal and one assist. Ryley van der Velde turned away five shots. The Camels (1-6, 0-4) held a 30-13 shot advantage and were awarded six penalty corners.

Navoni gave Connecticut Coll. a 1-0 lead with 21:46 left in the first half when she scored after Booth stopped a shot by Heidi Halsted. Paiva made it 2-0 with 8:15 to go and the Camels took their two-goal lead into the break.

Hamilton scored on four of its seven shots after halftime. Brown collected a loose ball in a scramble in front of the cage and scored 8:20 into the second half. She tied the score 3:33 later when she re-directed a crossing pass from Rosencrans.

Coon gave the Continentals their first lead with 12:04 remaining in regulation on her goal from the center of the circle. Navoni pulled Connecticut Coll. even on her goal off a cross from Paiva with 7:16 left.

Hamilton hosts Wesleyan University for another conference game on Saturday, Oct. 3, at noon.