Field Study in Iceland
---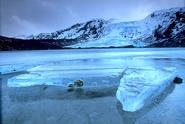 For a country with a population smaller than that of Wyoming, Iceland drew a lot of attention this spring when a more typically dormant volcano erupted and brought European air travel to a stop. Over the next two weeks, several Hamilton students will be able to observe for themselves this spectacular country and its many unique geologic features.
Upson Chair for Public Discourse and Professor of Geosciences Barbara Tewksbury and her husband David Tewksbury will lead eight Hamilton students (myself among them) and nine students from SUNY Oneonta in a 15-day field study in Iceland. Leading the trip in conjunction with Tewksbury is Professor Devin Castendyk of SUNY Oneonta. Joining us will be the Tewksburys' daughter and son-in-law, both scholars in the field of geosciences.
Professor Tewksbury leads this field study in Iceland every four years. This is the first year Professor Castendyk with be joining the trip. Tewksbury's fascination with Iceland began on a trip there with her family when she was still an undergraduate at St. Lawrence University. Tewksbury is currently conducting research on the deformation of recently erupted volcanic material in Iceland.
This will be Tewksbury's first group field study in Iceland since 2005, as economic uncertainty in Iceland prevented the field study from taking place last year. The recent eruption of Eyjafjallajökull also altered the trip's itinerary, as we planned to visit the area which has since been flooded by melted glacial ice.
Our group will spend five days studying geologic features Reykjanes, a ridge near Reykjavík, the capital of Iceland. We will also have the opportunity to visit the island of Heimaey off the south coast of Iceland, where an eruption in 1973 buried one-third of the town under volcanic ash. For the final eight days of the trip, we will embark upon a back country tour across of Iceland outfitted by Guðmundur Jónasson Travel Ltd., an organization with whom Tewksbury has worked for many years.
In preparation for the trip, the Hamilton students took a half-credit seminar in the spring semester. In the seminar, we researched the geology and culture of Iceland. In addition to making sure her students knew which types of rock they could expect to find throughout the country, Professor Tewksbury also gave us the opportunity to try typical Icelandic meals and made sure we knew our way around some of the trickier phrases (not to mention letters) in the language. We found the instruction helpful much sooner than we had anticipated. In April, when our friends studying abroad and family members of those on the Hill were stranded in Europe because of Eyjafjallajökull's volcanic activity, students of Geosciences 201 knowingly instructed our struggling peers, "It's pronounced Ey-ya-fee-at-yo-kult." The natives of Iceland may not be as impressed with our linguistic ability, but we will no doubt be awed both culturally and scientifically by this incredible island.
Nora Grenfell '12, a graduate of New York City Lab School, will be providing updates from Iceland. Please check back to read more about the group's expedition.