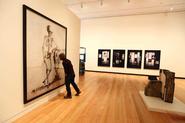 First Wellin Museum Video Available for Viewing
Since its October debut, more than 5,000 visitors have walked along the glass corridors of the Ruth and Elmer Museum of Art. Those who may not yet have visited the museum or those who would like to revisit a bit of the current exhibition at their desk can do so via a new video that provides a brief introduction to the museum and the inaugural exhibition, Affinity Atlas.
Available on the college's website, the video was created by Hamilton junior Ben Salzman, a member of the current New York City program. The video begins with an introduction by Director Tracy Adler, followed by Exhibition Curator Ian Berry's overview of Affinity Atlas. Berry explains how various works came to be included in the exhibition and how they relate to each other. Artists whose works he highlights are Vik Muniz, Max Galyon, Aaron King, Michael Oatman, Sara Vanderbeek, Demetrius Oliver, Silvia Saunders, Charles Burchfield, Spencer Finch, Paul Thek and Valerie Hagerty.