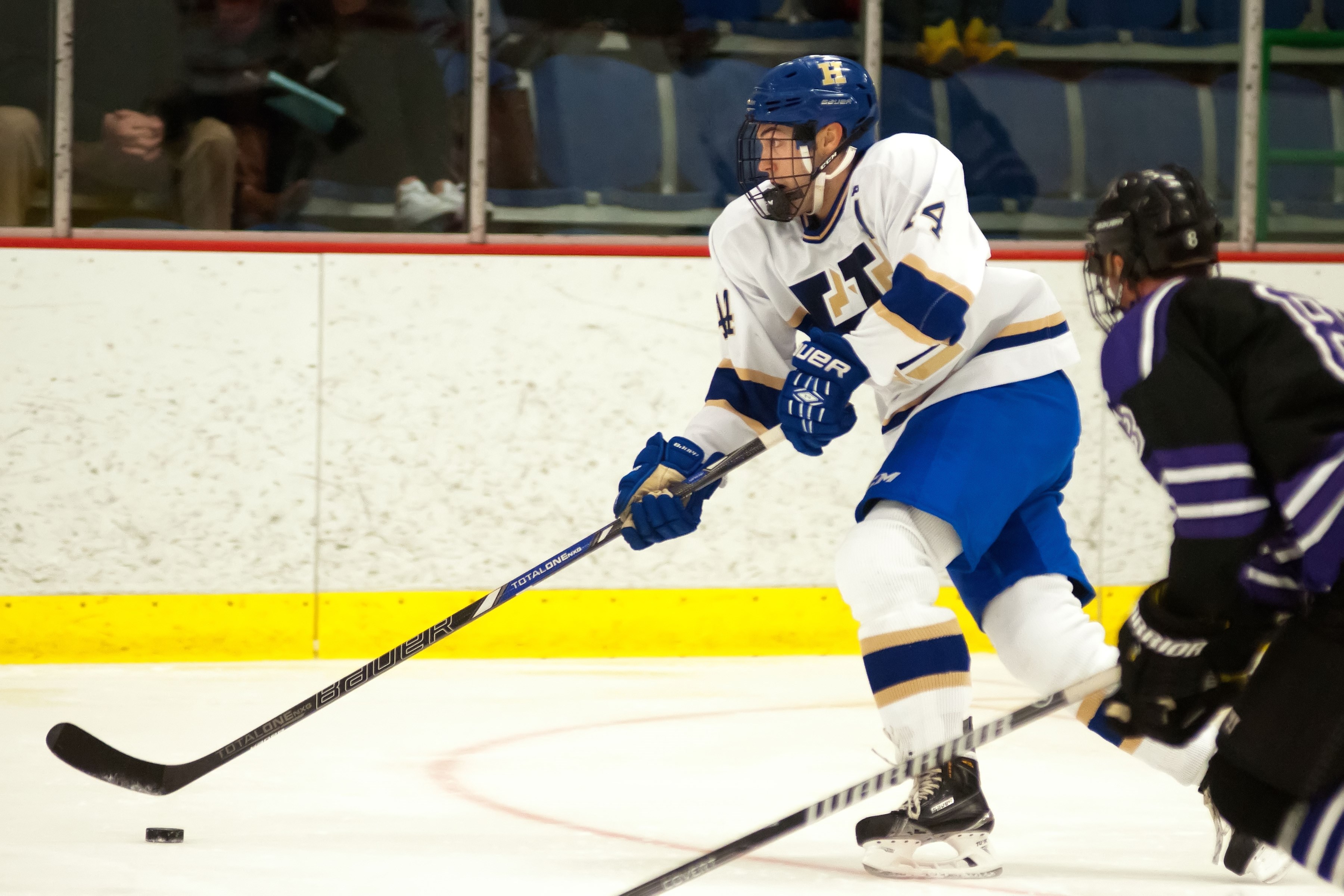 The Hamilton College men's hockey team picked up its first win of the season in dominant fashion, shutting out visiting Franklin Pierce 5-0 on Saturday night at Russell Sage Rink. The win marked the Continentals' second straight shutout of the Ravens.

Box score

Robbie Murden '17 had a hand in three of Hamilton's goals and Evan Buitenhuis '18 stopped 22 shots for his second career shutout.

The Continentals outshot the visitors 45-22; their 19-8 advantage in the first period included 13 of the game's first 14 shots.

After Franklin Pierce goaltender Tom McGuckin made eight saves in the first seven minutes, Murden's first goal put the Continentals on the board 7:51 into the game. He tipped in a shot by Tyler Lovejoy '16 for his fifth career game winner.

Murden and Lovejoy both picked up assists on Hamilton's second goal less than two minutes into the second period. With Hamilton on the power play for the second time, Murden fired a shot that McGuckin saved from a tight angle but the rebound went directly to Brandon Willett '18 at the left post and he converted the rebound for his first goal of the season.

Neil Conway '18 took advantage of his own rebound to put Hamilton up 3-0 at 4:19 of the second. He and Willett set up Murden for a goal four minutes into the third period. Rory Gagnon '19 closed out the scoring midway through the final period with his first collegiate goal.

Buitenhuis' shutout was his second in seven collegiate appearances and lowered his career goals-against average to 1.71.

McGuckin turned away 40 shots, including 18 in the first period to keep the Ravens in the game.

The Continentals are idle until next weekend when they face SUNY Canton in a home-and-home series. The Kangaroos visit Russell Sage Rink Friday and Hamilton travels to Canton Saturday. Both games start at 7 p.m.