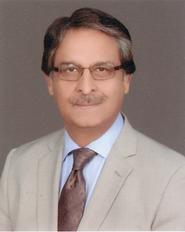 Hamilton College has a long history of engagement in the Foreign Service beginning with alumnus Elihu Root, class of 1864, who served as U.S. Secretary of State for four years beginning in 1905. Given this legacy, it is not surprising that one current and four former ambassadors are sharing their experiences and perspectives with the campus community this semester.
On April 29, Ambassador Jalil Abbas Jilani, Pakistan's ambassador to the United States, will present "Countering Violent Extremism: Pakistan's Challenges." His remarks will focus on Pakistan's internal threats as well as those emanating from the region and beyond. Ambassador Jilani assumed his responsibilities in 2014. Prior to his appointment as Ambassador of Pakistan to the United States, Ambassador he served as Foreign Secretary of Pakistan from March 2012 to December 2013. He is a career diplomat and has also served as Ambassador of Pakistan to Belgium, Luxembourg and the European Union (2009-2012) and as Pakistan's High Commissioner to Canberra, Australia (2007-2009).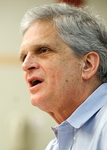 Former U.S. Ambassador to Egypt, Israel and the U.A.E. and Christian A. Johnson Distinguished Professor of Global Political Theory Edward Walker '62 has been teaching at Hamilton for several years and is one of 13 U.S. ambassadors who have graduated from the college. Ambassador Walker began at Hamilton as the Linowitz Professor of Middle East Studies in 2003 and 2005 and has continued teaching courses including Israeli Politics and U.S. Policy; Politics in the Middle East; Global Challenges; International Decision-Making; and Terrorism, the Middle East, and Counterterrorism, among others.
Walker served as U.S. ambassador to the United Arab Emirates from 1989 to 1992, U.S. deputy permanent representative to the United Nations from 1993 to 1994, U.S. ambassador to Egypt from 1994 to 1997 and U.S. ambassador to Israel from 1997 to 1999. From 2000 to 2001, he served as assistant secretary of state for near eastern affairs. Before coming to Hamilton, he held the position of CEO of the Middle East Institute.
Hamilton's current Sol M.Linowitz Professor of Middle East Studies Karl F. Inderfurth is also the senior adviser at the Center for Strategic and International Studies (CSIS). Prior to his appointment at CSIS, Inderfurth was the director of the International Affairs Program at George Washington University's Elliot School of International Affairs. From 1997 to 2001, he served as assistant secretary of state for South Asian Affairs, with responsibility for, among other countries in the region, India, Pakistan and Afghanistan. Inderfurth served as the U.S. Representative for Special Political Affairs to the United Nations, with the rank of ambassador, and deputy U.S. representative on the UN Security Council from 1993 to 1997. Prior to his presidential appointments, Inderfurth worked as a national security and later Moscow correspondent for ABC News (1981 to 1991) and received an Emmy Award in 1983.
It is at Inderfurth's invitation that Pakistan Ambassador Jilani is coming to Hamilton. Jilani will also speak in Inderfurth's class on "U.S. - Pakistan Relations: Convergences and Divergences."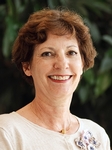 Ambassador Prudence Bushnell, who served as U.S. Ambassador to Guatamala (1999-2002) and to Kenya (1996-1999) and was also a former Hamilton Linowitz Professor (2010), is the founder of the college's Levitt Leadership Institute. For a week in January on campus and another in March in Washington D.C., Ambassador Bushnell guides students in this intensive program, the mission of which is to help students develop and practice the kinds of leadership skills essential to create personal and societal change.
In addition to her two ambassadorships, Bushnell served as Dean of the Leadership and Management School at the Foreign Service Institute (2002-2005). Her achievements have been recognized through numerous Department of State awards, the Department of Commerce Peace through Commerce Award, the Service to America Career Achievement medal and three honorary doctoral degrees. The Nairobi Mission Award for Heroism noted her community's response to the 1998 Al Qaeda bombing of the U.S. embassy in Nairobi, Kenya.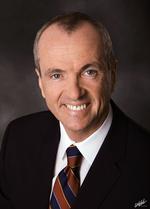 The final ambassador to make an appearance on campus is the college's commencement speaker, Philip Murphy, on May 24. Murphy served as the U. S. Ambassador to Germany from 2009 to 2013. His ambassadorship provided him with a return to Germany where he had headed Goldman Sachs' Frankfurt office from 1993 to 1997, overseeing activities in Germany, Switzerland and Austria, as well as in the emerging nations of Central Europe. He went on to serve as the president of Goldman Sachs (Asia) from 1997 to 1999. In all, Murphy spent 23 years at Goldman Sachs and held a variety of top-level positions before becoming a senior director of the firm in 2003, a position he held until his retirement in 2006.