Five Hamilton Sophomores Heading to Chicago to Compete in National College Curling Tournament
---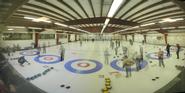 Hamilton sophomores Dave Hamilton, Tom Irvin, Katherine Alser, Yuqi Mao and Victoria Jenkins are heading to Chicago to compete in the National College Curling Tournament from March 16-18. The open tournament is divided by experience, with 32 teams split into four divisions of eight. Although Hamilton recently beat Colgate at a regional tournament, the Hamilton team will most likely place in Division IV due to its relative newness to the competition.
Curling is a precision sport that involves using brooms to push granite stones across a rectangular sheet of ice, towards a goal called the "house." A team consists of four players, clad in specialized sneakers rather than skates, who score points by sweeping stones close to the center of their opponents' house.
In order to form a competitive team, Hamilton students have been taking lessons every Sunday night since November at the Utica Curling Club.The facility is the largest of its kind on the east coast, and is one of the oldest clubs in the United States. Founded in 1868, the club now boasts six sheets of ice and over 200 members.
This marks the second time Hamilton students have competed in the National College Curling Tournament. In March 2004, Adam Bedient '04 and Dave Ewing '04 traveled to St Paul, Minn. with two students from Syracuse University. As a combined Hamilton/Syracuse team, the team won the Bronze medal in Division III curling.
-- by Mariam Ballout '10