Five Hamilton Students Experience Life as Medical Residents
---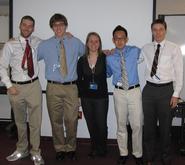 Five Hamilton students were recently given the opportunity to experience a week in the life of a medical resident at St. Elizabeth Medical Center in Utica, New York. Sam Cho '10, Thomas Coppola '10, James Langan '10, Sven Oman '10 and Kendra Wulczyn '10 took part in the Health Experience Learning Program (HELP) from January 11 to 15. The five day internship consisted of shadowing a medical student and various first, second, and third year residents of St. Elizabeth's Family Practice Residency Program.

HELP, which is in its 5th year, was instituted to give Hamilton students the opportunity to learn about the daily activities of medical residents and to gain exposure to the medical field. The program took place both at St. Elizabeth's Hospital and at an affiliated clinic on Hobart Street which is aimed at providing healthcare to the underprivileged Utica community. Even though all of the residents practicing at St. Elizabeth's are pursuing a career in family medicine, it is a required aspect of their residency to actively practice in other fields, such as obstetrics/gynecology, pediatrics, surgery, and internal medicine. As such, it was possible for the Hamilton students to also experience these different fields, in addition to attending daily morning reports and grand rounds.

Kendra Wulczyn found the HELP program to be "an excellent learning opportunity both for the exposure to the medical profession and the chance to learn about the daily activities of medical students and residents." After the week was over, Wulczyn was even more motivated and excited to begin her career in the medical profession. She found the surgery rotation and the OB/GYN rotation to be the most interesting.

Similarly, James Langan was impressed and inspired by his day on the surgical floor. After spending the morning observing an ear, nose, and throat specialist, Langan spent the afternoon watching an open-heart surgical repair of a coronary artery. The opportunity to observe such an intense surgery was something that Langan will not soon forget. Sven Oman, on the other hand, found his day with a pediatrician to be the highlight of his week. Not only was the pediatrician an excellent doctor, but Oman was also impressed by the genuine interest that the doctor took in teaching and helping those around him.

At the end of the week, all five of the students felt fortunate to have had the opportunity to take part in HELP. The exposure to the life of a medical resident was a valuable learning experience, even if it was at first a bit difficult to adjust to their working hours. The educational and inspirational qualities of the HELP program will surely contribute to its continued success as a part of Hamilton's pre-med program.

Author Kendra Wulczyn '10 is a graduate of Cumberland Valley High School.