Football runs over Bowdoin
---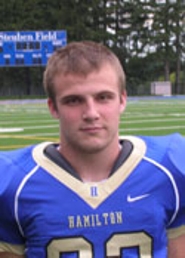 James Stanell '14 ran for 119 yards and two touchdowns to lead Hamilton College to a 31-10 win against Bowdoin College in a New England Small College Athletic Conference game at Hamilton's Steuben Field on Oct. 16.

The Continentals (1-3 overall, 1-3 NESCAC) ended their season-opening losing skid at three games. Hamilton's 31 points was the most scored by the team since the Continentals defeated Bowdoin 51-48 in overtime exactly six years ago in 2004.

Stanell was part of a Hamilton rushing attack that overwhelmed the Polar Bears with 235 yards on 43 carries. Dylan Isenberg '12 added 69 yards and a touchdown on 16 attempts. The effective ground game allowed the Continentals to control the clock as Hamilton had the ball for more than 36 minutes. The offensive line was led by Paul Zarella '12, Sam Peabody '12, Jon Michel '13, Randall Lee '11 and Niko Wagner '14.

Jordan Eck '13 was an efficient 13 of 20 for 189 yards passing with one touchdown for the Continentals. Eck had three scoring passes -- a couple that were completed after long scrambles -- wiped out by holding penalties. Hamilton ended up with 11 penalties for 100 yards.

McCullough Shriver '13 caught five passes from Eck for 76 yards and one touchdown. Kevin Petrick '13 had four receptions for 64 yards. George Taylor '11 was a perfect 4-for-4 on extra-points, and made one field goal from 26 yards that made the score 31-10 with 8:20 left in the fourth quarter. However, he was wide left on field goal attempts from 24 and 29 yards in the second quarter.

The Continentals held Bowdoin to 195 yards of offense. Dan Peters '13 was credited with seven tackles (six solo), returned an interception 38 yards to the Bowdoin 4 in the first quarter and recorded a sack. Mac Gillan '11 forced a fumble that was recovered by Rob Gannon '11 on the Polar Bears' first drive in the first quarter, and had 2.5 sacks. Jacob Sheetz-Willard '12 also intercepted a pass.

R.J. Shea '12 was 11 of 22 passing for 114 yards for Bowdoin, but threw two interceptions that resulted in 10 Hamilton points. Pat Noone '12 was Shea's favorite target with eight catches for 54 yards. Zach Donnarumma '14 ran for 70 yards and a touchdown. Ian Vieira '12 recorded a game-high 13 tackles, including a sack. Kevin O'Connor '11 added two sacks, and Rob MacGregor '13 forced a fumble.

The Continentals struck first on a 3-yard touchdown run by Isenberg that capped a 10-play drive with 2:42 left in the first quarter. Eck scrambled for 14 yards and a first down on third-and-6 on the previous play. Earlier in the drive, a 21-yard touchdown pass to Shriver was nullified because of a holding call on Hamilton.

The Polar Bears (1-3, 1-3) faced third-and-14 from their 30 on the next drive when Shea's pass over the middle was picked off by Peters at the Bowdoin 42 and returned 38 yards down the left sideline. After Isenberg was stopped for a six-yard loss, Eck found Shriver for a 10-yard touchdown pass on the right side, and the extra-point made the score 14-0 with 46 seconds left in the first.

The Continentals believed they had taken a 20-0 lead on their first drive of the second quarter after Eck threw 6 yards to Ryan Cray '12 on the left side. However, a Hamilton holding penalty brought it back, and the drive resulted in a missed field goal.

The Polar Bears moved backwards on their next drive, thanks to two sacks by Gillan, and Grant White '14 had to punt from the end zone. Ted Finan '12 caught White's 38-yard punt at the Bowdoin 40 and returned it 15 yards to set up the Continentals with great field position. A pass interference penalty on the Polar Bears put the ball at the 10, and Stanell scored his first Hamilton touchdown on the next play with 8:43 left in the second quarter.

Noone gave Bowdoin great field position with a 33-yard return to the Hamilton 49 on the ensuing kick. The drive ended on a 26-yard field goal by Bill Donahue '11 with 5:27 remaining in the half. The Continentals were penalized 20 yards on the drive.

Hamilton held the ball the rest of the half on a 12-play drive that ended with a 29-yard field goal that sailed wide left. Eck was 4 of 6 on the drive for 54 yards.

The Polar Bears tried to rally in the second half. On fourth-and-5 from the Bowdoin 31, Eck's scoring toss to Shriver was brought back due to a holding call. Now at the 41, the Continentals elected to punt, but the snap sailed over Taylor's head, and he ran back to his own 25 to retrieve the ball. His punt attempt was blocked by Brendan Garner '11 and the ball rolled out of bounds at the Hamilton 24.

Bowdoin scored 10 plays later after two successful fourth-down conversions. Donnarumma punched it in from the 1 and Donahue's extra-point made the score 21-10 with 6:08 remaining in the third quarter. The Polar Bears had a chance to pull even closer, but a 31-yard field goal try by Donahue was short and left as the third quarter ended.

Stanell effectively ended Bowdoin's hopes of a comeback on the next drive. From the Polar Bear 20, he gained eight yards and then one to set up third-and-1. Stanell burst through a hole off right tackle, ran past a couple Bowdoin defenders and raced all alone down the right sideline for a 71-yard touchdown. The PAT made the score 28-10 with 13:25 left in the fourth. The Polar Bears made it into Hamilton territory on just one of their last three drives.

Hamilton leads the all-time series 16-11, and has won six of the last eight meetings with Bowdoin. The Continentals travel to Colby College for another NESCAC game on Saturday, Oct. 23. Bowdoin hosts Trinity College that same day.