Football falls at Colby
---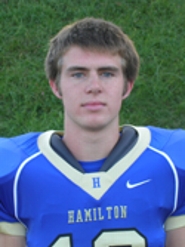 Richard Newton had two interceptions and returned one for a 64-yard touchdown as Colby College scored 29 unanswered points in the second half to take a 35-7 win over Hamilton College in a New England Small College Athletic Conference football game at Colby's Seaverns Field at Harold Alfond Stadium on Oct. 23.

Newton's defensive heroics helped Colby (2-3 overall) break open the game in the second half. With the Mules up 14-7, Newton intercepted a pass near the Colby bench and raced 64 yards down the sideline for the score and a 21-7 lead with 9:08 to play in the third quarter.

Newton picked his second pass off on the Hamilton (1-4) side of the field and used a nifty run to come all the way across the field to the Colby sideline while getting pushed out of bounds at the Continental 19-yard line. Newton had 95 yards on the two interception returns.

After six plays and a penalty brought the ball back to the 19-yard line, Colby quarterback Nick Kmetz hit running back Conor Tidgwell for a touchdown and a 28-7 margin with 8:29 to play in the game.

Colby closed out the scoring when Ian Borthwick rushed 30 yards on scoring run with 5:29 to play.

After a scoreless first quarter, the Mules scored first on a 16-yard scoring pass from Kmetz to Patrick Burns just 35 seconds into the second quarter. The Mules did miss the extra point, which allowed Hamilton to take a 7-6 halftime margin on a 31-yard pass play from Steve Mello '11 to Ryan Cray '12.

Colby took the lead for good on a 1-yard plunge by Tidgwell with 10:48 left in the third quarter to cap a 63-yard scoring drive in seven plays. Tidgwell had a rush of 25 yards to get the ball to the 1-yard line and Connor Walsh scampered 23 yards on a run during the drive.

Colby punter Connor Sullivan had his best kicking day as a Mule. He had a collegiate-high 66-yard punt downed at the Hamilton 4-yard line and also had a 54-yard boot downed at the Hamilton 3-yard line. Sullivan had three punts for a 49.7-yard average and also completed one pass for 10 yards in relief of Kmetz.

James Stanell '14 had a game-high 16 rushes for 96 yards (6.0 average) and Mark Snickenberger '11 had 35 yards rushing. Mello threw for 100 yards and one touchdown.

Kmetz was 14-for-22 for 147 yards and the two touchdowns. Tidgwell had 39 yards on nine carries (4.3 average) and Borthwick had 36 yards on three rushes. Walsh had four catches for 29 yards and added six runs for 28 yards (4.7). Andrew Graham caught three balls for 40 yards.

Dan Peters '13 led Hamilton with eight tackles, a fumble recovery, and one sack. Ted Finan '12 finished with seven stops and had one interception, while Burke St. John '11 had two sacks of his five tackles.

Tom Duffy and Derrick Beasley both had eight tackles to pace Colby's defense. Ryan Murphy finished with seven stops, while Ryan Veillette had two sacks among his four tackles.

Hamilton hosts Williams College at 1 p.m. on Saturday, Oct. 30, for Family Weekend.