Football tripped up by Williams
---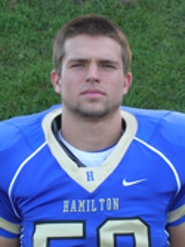 Pat Moffitt '11 threw for 266 yards and three touchdowns to lead Williams College to a 38-7 win against Hamilton College in a New England Small College Athletic Conference game at Hamilton's Steuben Field on Oct. 30.

Williams (6-0 overall, 6-0 NESCAC) remained in a tie for first place in the conference standings with two games left. Hamilton (1-5, 1-5) lost its 14th straight game against the Ephs -- a streak that dates back to 1996.

The Williams defense limited the Continentals to 138 yards, four first downs and 1 of 13 on third-down conversions. Hamilton ran just 47 plays on offense while the Ephs held the ball for more than 38 minutes.

Moffitt completed 19 of 28 passes and the three scoring passes went to three different receivers. Tomas Kearney '12 led all players with eight catches for 131 yards, including a 14-yard touchdown reception. Ryan Lupo '11 ran for a game-high 93 yards on 22 carries. Pat Barren '11 recorded a team-high six tackles, Andre Lafontant '14 intercepted a pass at the end of the first half, Hill Hamrick '13 blocked a punt and K.C. Murphy '13 forced a fumble.

Steve Mello '11 was 15 of 31 for 89 yards in his first start at quarterback for the Continentals. Mello threw a 12-yard touchdown pass to Scott Kleinklaus '11 with 3:28 left in the third quarter that made the score 38-7. James Stanell '14 ran for 47 yards on 14 carries.

Mike MacDonald '13 was credited with a career-high 20 tackles, including 1.5 sacks. The 20 tackles are the most by a Hamilton player since Matt Pitarresi '08 had 21 at Amherst College on Sept. 25, 2004. Dylan Isenberg '12, who was the starting tailback at the beginning of the season, made 11 tackles (nine solo). Jim Forrey '13 forced a fumble.

Williams took advantage of a blocked punt to score its first touchdown. Hamilton faced fourth-and-7 from its 31 when George Taylor '11 had a punt blocked for the second time this year. Hamrick's block was recovered by teammate Richie Beaton '14 at the Hamilton 8. Two plays later, Moffitt threw five yards to Darren Hartwell '13 on the right side, and Hartwell lunged into the end zone for a 6-0 lead with 8:38 left in the first quarter. Chris Cleary '12 added the extra-point.

Moffitt capped a nine-play, 81-yard drive with the touchdown pass to Kearney in the back-right corner of the end zone just 62 seconds into the second quarter. Kearney leaped and stole an interception away from Isenberg, who had his hands on the ball, but Kearney had possession when the two came down.

A five-yard scoring toss from Moffitt to Jon Carroll '11 wrapped up another lengthy drive (nine plays, 75 yards) with 3:22 left in the second. After a Taylor 28-yard punt gave the Ephs the ball at their own 35 with 1:53 remaining in the half, Williams kicked its two-minute offense into high gear. A 35-yard pass from Moffitt to Kearney put the ball at the Hamilton 25, and Moffitt found Hartwell for 15 yards to the Continentals' 9 on third-and-nine. The Ephs were 12 of 19 on third down. Kristian Lapointe '14 ran it in on the next play, and Cleary's PAT gave Williams a 28-0 lead with 23 ticks left in the half.

The Ephs received the opening kickoff in the second half and went 62 yards on nine plays for their fifth touchdown. Tim Morris '13 bulled in from the 2-yard line with 10:36 remaining in the third quarter. Cleary gave Williams a 38-0 cushion on a 25-yard field goal with 5:07 left in the third.

Hamilton hosts Middlebury College for the Old Rocking Chair Classic on Saturday, Nov. 6. The Ephs, who lead the all-time series with the Continentals 38-7, host Wesleyan University on Saturday as well.