Football tripped up at Bowdoin
---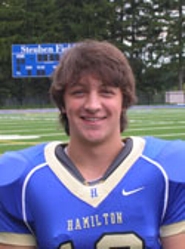 Bowdoin College's defense sacked Hamilton College six times and set a program record by holding the Continentals to negative yards rushing in a 20-7 NESCAC victory at Bowdoin's Whittier Field on Oct. 15.

Peter Troubh led a tenacious Polar Bear defense that sacked Hamilton quarterback Jordan Eck '13 six times and permitted minus-34 yards on the ground, breaking the former school mark of minus-17 set in 1975 against W.P.I. Troubh had three of Bowdoin's six sacks, while running back Zach Donnarumma had 79 yards to lead a Polar Bear rushing attack that finished with 146 yards.

Eck finished 30 of 40 for 226 yards passing and a touchdown. The 30 completions are a career high. Kevin Petrick '13 (seven catches, 84 yards) and Garrett Hoy '13 (seven catches, 37 yards) were Eck's favorite targets in the Continentals' efficient short-passing attack.

Ted Finan '12 intercepted the fifth pass of his career, Jacob Sheetz-Willard '12 recorded his first sack and Camron Waugh '13 tied a career high with eight tackles. All eight were solo stops.

Donnarumma's 79 yards and Kevin Miao's 37 led the Bowdoin rushing offense. First-year quarterback Mac Caputi completed 4 of 10 passes for 66 yards and his first collegiate passing touchdown. Sean O'Malley caught three passes for 56 yards and Pat Noone extended his consecutive games with a catch streak to a school-record 23.

Bowdoin (2-2 NESCAC) cashed in on an early Hamilton turnover, as John Fisher '15 fumbled on the first play from scrimmage, and set the Polar Bears up at the Continental 27. Bowdoin stalled five plays later and settled for a 27-yard field goal from Jimmy Garvey for the early lead.

The Polar Bears increased their lead to 10 points with a long drive that bridged the end of the first quarter and the start of the second. Bowdoin took control of the ball at its own 26 and marched 74 yards in 14 plays, covering nearly eight minutes. Miao capped the drive with a 1-yard scoring plunge.

Hamilton (2-2) replied on the next possession, as Eck completed eight passes on a 10-play, 64-yard drive to paydirt. He found Patrick Donadio '15 with a 6-yard strike to end the drive and close the gap to 10-7 with 5:39 left in the half. The TD reception was Donadio's first with the Continentals.

After the teams traded possessions to open the second half, Bowdoin scripted a much quicker drive to push the lead back to 10 points. Caputi, who replaced injured starter Grant White in the second quarter, moved the Polar Bears down the field with a 24-yard pass to Sean O'Malley to the Hamilton 33. Two plays later, Caputi rolled right and found Michael English in the back of the end zone for an 18-yard scoring pass to give Bowdoin a 17-7 lead with 4:29 left in the third quarter.

The Polar Bear defense took over from there, holding Hamilton to just 49 yards of total offense and racking up five sacks in the second half. Garvey nailed a 22-yard field goal midway through the fourth quarter to seal the win for Bowdoin.

The Continentals host Colby College at Steuben Field on Saturday, Oct. 22. Hamilton is 2-0 at home in 2011.