Football drops game at home
---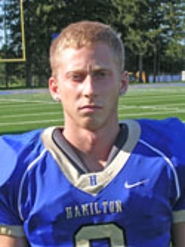 Colby College's Nick Kmetz '12 threw two touchdown passes and the Mules' defense forced six turnovers in a 13-7 win against Hamilton College in a NESCAC football game at Hamilton's Steuben Field on Oct. 22.

Colby (1-4 NESCAC) won for the first time in 2011 after opening the season with four losses. The Mules have won four in a row against the Continentals, and lead the all-time series 18-14.

Hamilton (2-3) lost its third straight game after starting the season 2-0 for the first time since 1992. The Continentals have scored two touchdown in the last three games.

Kmetz was 11 of 23 passing for 165 yards with one interception. Connor Walsh '12 caught five passes for 64 yards.

Colby's Ryan Veillette '13 and Henry Nelson '15 were credited with 10 tackles apiece. Veillette posted 2.5 sacks and recovered a fumble. The Mules finished with seven sacks. Nelson recorded a sack and forced a fumble. Derrick Beasley '13 and Shayne Begin '12 intercepted one pass apiece, and Christian Romano '14 returned a pick 62 yards in the first quarter.

Hamilton's Jordan Eck '13 was 26 of 46 passing for 247 yards with three interceptions. He had not thrown a pick in 91 attempts entering today's game. Patrick Donadio '15 caught seven passes for 77 yards and Kevin Petrick '13 had six catches for 60 yards. James Stanell '14 had 46 yards receiving and 44 yards rushing. Stanell scored on a 2-yard run in the second quarter, but also lost two fumbles.

Mike MacDonald '13 finished with a game-high 13 tackles for the Continentals. Ian Milne '15 registered four tackles for a loss, including 2.5 sacks. Milne ended up with eight total stops. Dylan Isenberg '12 returned an interception 39 yards, and Dan Peters '13 brought another pick back 9 yards. Hamilton limited Colby to 199 yards of offense and 11 first downs.

The Mules started their first possession in the first quarter on their own 48 after a 22-yard punt by Garrett Hoy '13. After a Kmetz rush went for no gain on first down, Kmetz found Nick Joseph '14 in stride deep down the middle of the field, and Joseph ran untouched into the end zone for a 52-yard touchdown with 12:37 left in the first quarter. Johannes Scheepers '15 kicked the PAT for the 7-0 lead.

The Continentals tied the score midway through the second quarter after a nine-play, 61-yard drive. Eck was 3 of 4 for 41 yards on the drive, including a 22-yard pass to Hoy. On first-and-goal from the Colby 10, the Mules were whistled for a face mask after Stanell ran for a yard, and Hamilton had first down at the 4.

On second down, the ball slipped out of Eck's hand as he tried to throw and he knelt down around the 12. A Colby player bowled Eck over and was flagged for a personal foul late hit penalty. Stanell ran it into the end zone from the 2 on the next play. Hoy added the extra point with 5:21 left in the half.

The teams went to the locker room tied at 7-7, but the Mules took the lead for good midway through the third quarter thanks to another big play by their defense. On third-and-17 from the Hamilton 28, Eck was sacked by Nelson and fumbled, and Lester Batiste '13 recovered at the Hamilton 7.

After a delay of game penalty on Colby pushed the line of scrimmage back to the 12, Kmetz found Michael Lahiff '13 in the back of the end zone for a touchdown with 8:04 remaining in the third. Scheepers' PAT banged off the left upright, and the Mules led by just six.

The Continentals didn't have many opportunities to draw closer after Colby's touchdown. Hoy missed a 36-yard field goal wide left on the first play of the fourth quarter. Hamilton started its final drive at its own 9 with 3:21 left.

Eck guided the Continentals to the Mules' 33 with 32.2 seconds remaining, but he was sacked for a 12-yard loss on second down. Hamilton was flagged for holding on the next play, Eck's third down pass was dropped and Caleb Harris '15 sacked Eck at the Continentals' 40 as time ran out.

Hamilton travels to Williams College for another NESCAC game on Saturday, Oct. 29. Colby hosts Bates College in conference action on Saturday.