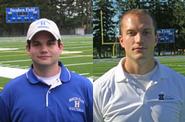 Hamilton College assistant football coaches Matt Wright and Jeff Friedman '05 attended the ninth annual Lauren's First and Goal Football Camp at Lafayette College in Easton, Pa., where $85,000 was raised for pediatric brain tumor research on June 3.

Lauren's First and Goal Foundation site

Wright is in his fifth year at Hamilton, and he coaches the offensive line. He played for perennial Division III power Ithaca College for two years after he graduated from Plattsburgh High School in 2001. He earned a bachelor's degree in clinical exercise science from Ithaca in 2005.

Friedman is in his third year at Hamilton, and he coaches the defensive backs. He was a three-year varsity letter winner at defensive tackle for Hamilton, and started his senior year in 2004. Friedman graduated with a bachelor's degree in biology and a history minor. He earned a law degree from American University in Washington, D.C., in 2008.

The camp is the primary fundraiser for Lauren's First and Goal Foundation. All proceeds from the event go directly to its mission of providing financial support for brain tumor research and cancer services. The foundation offers financial and emotional support to families living with pediatric cancer and increases awareness of the disease.

During the one-day camp, players receive instruction in a variety of offensive and defensive skills from college coaches from around the country. Almost 300 coaches representing 102 colleges and universities volunteered at the event.

The event was created in 2004 by John and Marianne Loose in honor of their 15-year-old daughter Lauren, who is a pediatric brain tumor survivor. The foundation has raised $113,000 this year, and since its inception has donated more than $1 million toward the fight against pediatric brain tumors and cancer.