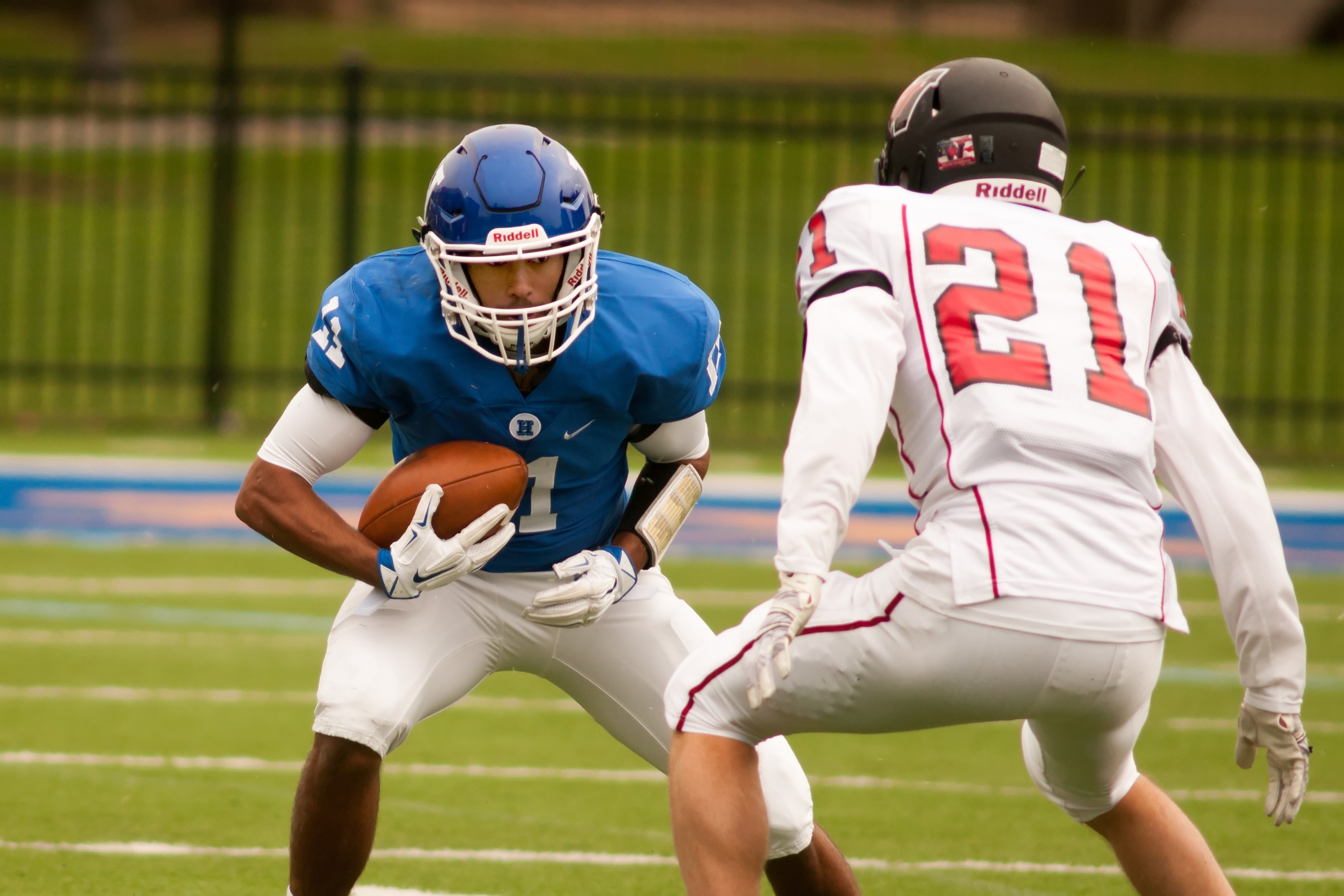 The Hamilton College Continentals spotted Bowdoin College 15 points, rallied in the third quarter, but ultimately suffered a 30-20 NESCAC loss at Bowdoin's Whittier Field on Saturday afternoon.

Box Score

Charles Ensley '17 caught eight passes for 139 yards and one touchdown for Hamilton (0-4, 0-4 NESCAC). Ensley also had one carry for a 20-yard gain. Pat Donahoe '16 had 64 yards receiving on just four catches. Donahoe is ranked third in the NESCAC with 88.3 receiving yards per game.

Cole Freeman '18 relieved starting quarterback Chase Rosenberg '17 late in the second quarter and ended up 19 of 39 passing for 262 yards and two touchdowns. All of Freeman's totals were career highs for a single game. LaShawn Ware '18 ran the ball 16 times for 72 yards.

Cade Larabee '16 was credited with a career-best 16 tackles, including 10 solo stops, and Brent Lobien '17 chipped in a career-high 12 tackles. Conor Powers '17 forced and recovered a fumble in the first quarter.

Noah Nelson led the Polar Bears (1-3, 1-3) with 28 of 43 passing for 328 yards and four touchdowns with no interceptions. Andrew Tichy ran for 106 yards on 28 carries and added 54 yards receiving. Daniel Barone caught six passes for a team-high 91 yards.

Branden Morin led Bowdoin's defense with nine tackles and Latif Armiyaw and Phillippe Archambault recorded two sacks apiece. Jibrail Coy, Cameron Rondeau and Bjorn Halvorson had one interception each. The Polar Bears finished with six sacks and helped the team to a plus-2 turnover margin.

Bowdoin got on the board first thanks to a 32-yard field goal from Andrew Sisti with 7:23 left in the opening frame. The Polar Bears had the ball for more than nine minutes in the first quarter.

Bowdoin then capped an eight-play, 65-yard drive with a 3-yard touchdown pass from Nelson to Ken Skon early in the second quarter. The Polar Bears added to their lead late in the half with a five-play, 50-yard drive as Nelson found Stephen Griffin for a 2-yard touchdown and gave the hosts a 15-0 lead at the break.

Hamilton came out hot in the second half, scoring twice in the third quarter to draw within two points. The Continentals scored on the longest play of the day, a 45-yard pass from Freeman to Ensley with 10:05 remaining in the third. Later in the period, Hamilton marched 80 yards in seven plays, scoring on a 3-yard plunge by Jason Nastovski '18 -- his first collegiate touchdown -- to trim the Polar Bear lead to 15-13 entering the fourth quarter.

After the teams traded three-and-outs, Bowdoin regained control in the fourth quarter as the Polar Bears covered 42 yards in two plays. Nelson found Barone for a 32-yard pass to the Hamilton 10 and connected with Nick Vailas for a score on the very next play to make it 22-13.

After another Hamilton three-and-out, the Polar Bears put the contest out of reach. A six-play, 71-yard drive was capped by a Nelson pass to Bryan Porter from 11 yards out to increase the Bowdoin lead to 30-13 with 10:25 to go.

Freeman led Hamilton on a late scoring drive that covered 88 yards in 12 plays and finished with a 10-yard touchdown pass to Nick Caso '16 with 47 seconds remaining. The TD catch was Caso's second this year.

The Continentals host winless Colby College on Saturday, Oct. 24, at noon.